$28.00
NZD
Category: Colouring books
Wondermorphia combines artwork from Fantomorphia and Geomorphia into one edition. Enter the enchanting fantasy worlds of epic doodler Kerby Rosanes, with scenes and animals inspired by gothic grandeur and the natural landscape. From clockwork dragons and vine-entangled pumpkins, to fiery foxes erupting from volcanoes and fairy-tale castles growing out of crystal foundations - there's plenty for you to bring to life with colour. As an extra challenge, seek out the search items at the back of the book. There's more to discover within these pages than you ever dreamed possible. On top of the success of Animorphia, Imagimorphia and Mythomorphia, Kerby's detailed doodle skills have already earned him a solid fan base. He has over 1 million followers on Instagram, his Sketchy Stories Facebook page has more than 2 million likes, and he has over 500K project views on Behance. ...Show more
$25.00
NZD
Category: Colouring books | Series: Millie Marotta Ser.
Go into the woods with Millie Marotta The New York Times bestselling artist has created a stunning coloring book filled with forest-dwelling creatures.   In the sixth installment of her wildly popular coloring book series, Millie Marotta takes us through the woodlands of the world. More than 90 intricat e drawings of beautiful forest-dwelling creatures will delight colorists and spark their creativity. Millie's enticing flora and fauna include an adorable napping fox, little owl, Japanese pygmy woodpecker, peacock, badger, and polecat, along with whimsical ginkgo leaves, blossoming flowers, and tropical seeds and fruits that spill invitingly across the pages. ...Show more
$25.00
NZD
Category: Colouring books
Epic doodler Kerby Rosanes allows his wildest imaginings to come to life as he creates microcosms of strange realities with his own unique twist. Enchanting realms and entire universes are transported to strange and wonderful new habitats and a hidden magic key 'unlocks' the next world.   Viking ships set sail through the eyes of a skull, an open book has a steampunk city rising from its pages and a giant tortoise carries a haunted house on its shell - all for you to bring to life in colour. ...Show more
$26.00
NZD
Category: Colouring books
This stunning new colouring book by Johanna Basford takes readers on a inky quest through an enchanted forest to discover what lies in the castle at its heart. As well as drawings to complete, colour and embellish, there are hidden objects to be found along the way including wild flowers, animals and bi rds, gems, lanterns, keys and treasure chests. Beginning at the entrance to the forest, the journey progresses through woodland, rocky caves and tree-lined mazes, over streams and a waterfall, across the trees tops, to finally reach the castle. Also hidden throughout the book are nine symbols. Readers must find all the symbols to unlock the castle door at the end of the quest and discover what lies within. PAGE COLOUR MAY VARY SLIGHTLY. This title is printed using paper from more than one source. This means that, while paper quality and thickness is consistent from copy to copy, page colour may vary; for example one copy of this book may have pages that are a slightly deeper cream colour than another copy. ...Show more
$23.00
NZD
Category: Colouring books | Series: Kerby Rosanes Extreme Colouring Ser.
Following the international success of Animorphia, which sold in 10 territories before the book was completed, comes Imagimorphia, a strange and amazing colouring and doodling challenge from talented artist Kerby Rosanes. Kerby's unique and ground-breaking black-and-white-line style lends the book wide cross-over appeal and will attract fans of all ages. Animals and objects are formed from weird and wonderful things. The intricate compositions are filled with mind-boggling detail and there are objects hidden throughout the book to find. ...Show more
$28.00
NZD
Category: Colouring books
An abundance of fascinating florals awaits in the gorgeous new colouring book from Johanna Basford. Join 'colourist queen' Johanna Basford on a floral adventure around the world and beyond, into the realms of fantasy and imagination. This sensational new colouring book is filled with countless new bloo ms and blossoms, from floating gardens of water poppies in South Africa to delicate cosmos in Japan, ready for you to discover and bring to life in colour. Get ready to show your colours! Johanna has picked a crisp ivory paper that accentuates and compliments your chosen colour palette. The smooth, untextured pages allows for beautiful blending or gradient techniques with coloured pencils, or are perfect for pens, allowing the nib to glide evenly over the surface without feathering. ...Show more
$28.00
NZD
Category: Colouring books
A beautifully-illustrated colouring book celebrating the magic of the natural and human worlds, and those who inhabit them. Featuring detailed line art of tarot cards, herbs, flowers, mandalas, the moon, the mountains, creatures of the night and much, much more, this book is a spellbinding celebratio n of modern witchcraft with its focus on healing, mindfulness and meditation. Every illustration is accompanied by text on the opposite page about the magical element being displayed. Illustrated by bestselling artist Claire Scully. ...Show more
$40.00
NZD
Category: Colouring books
5O No-Sketch Projects That Bring the Ocean to Life Dana Fox, author of Watercolor with Me: In the Forest and founder of Wonder Forest, provides fifty new marine-themed projects in this beginner-friendly watercolor guide. Known for her whimsical art style and straightforward instruction, Dana leads you through three major watercolor techniques: wet-on-wet, wet-on-dry, and ink-and-wash. Best of all, there's no sketching required, so you can focus on each painting method. Bring adorable sea creatures like octopuses and otters to life on high-quality art paper. Start simple with shading in a monochromatic orca, experiment with adding depth to color with a bright bobbing seahorse and practice stylizing your subject in a charming lighthouse scene. With inspired art and step-by-step instruction, it's easy to pick up a paintbrush, break out your palette, and create something beautiful. ...Show more
$22.00
NZD
Category: Colouring books | Series: Kerby Rosanes Extreme Colouring | Reading Level: Teen - Grade 7-9, Age 12-14
Welcome to the third and fabulous colouring book from the sensational Kerby Rosanes, Mythomorphia. Featuring his unique and intricate ink drawings, this book includes images of gorgeous mythological creatures morphing and shapeshifting to create Kerby's signature, breath-taking scenes. From magnificent dragons and phoenixes to beautiful mermaids and mischievous goblins, this book is truly out of this world. Some of his super-detailed picture creations can be coloured in, others need to be completed and all of them hide a selection of things to find. Readers will ahve to keep their eyes peeled from these items scattered throughout the pages. On top of the success of Animorphia and Imagimorphia, Kerby's skills have already earned him a solid fan base. His Sketchy Stories Facebook page has more than 1,000,000 likes, he has had 275,000 project views on Behance and his incredible website (www.kerbyrosanes.com) is getting more hits by the day.   ...Show more
$26.00
NZD
Category: Colouring books | Reading Level: Children's - Grade 3-4, Age 8-9
Good news for all SECRET GARDEN fans All editions of SECRET GARDEN now feature thicker and heavier paper stock, fighting bleed-through from ink pens.   Experience the phenomenon that has sold 11 million copies worldwide and launched the coloring craze for adults.   This beautiful and interactive col oring book features delicate and highly detailed pen-and-ink illustrations--all waiting to be brought to life with color. As added entertainment, tiny garden creatures are hidden on the pages, waiting to be found, and a key and index are included in the back. The book's cover and jacket are also colorable.   Appealing to all ages, SECRET GARDEN is the original and first book by Johanna Basford. ...Show more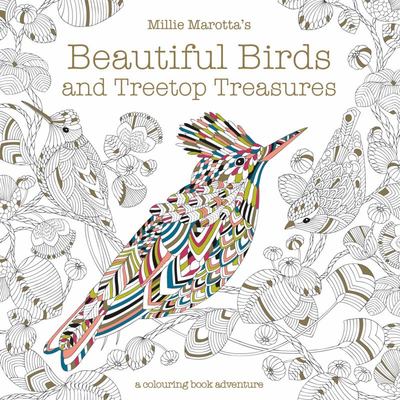 $25.00
NZD
Category: Colouring books | Series: Millie Marotta Ser.
The new book by the author of the Sunday Times bestseller, Millie Marotta's Animal Kingdom. Enter Millie's wonderful world of treetop treasures and discover the birds nesting and flying high up in the treetops, and the myriad creatures found among the branches. The enchanting illustrations to colour i n range from birds such Major Mitchell's cockatoo and rose robins, to the magnolia warbler, silver-eared mesia and whiskered treeswift. As well as the beautiful birds of the world, Millie's intricate designs show the more unusual creatures residing in the treetops, such as the Amazonian milk frog, the sugar glider or the tree-kangaroo. Millie's inimitable style is treasured by thousands around the world and in this new, exciting book there are all sorts of creatures and fauna waiting to be coloured in, from tiny insects to winged beasts and scaled reptiles to buds and blossoms. The world's rainforests, woodlands and thickets are teeming with life and this book guarantees hours of relaxation and colouring fun. ...Show more
$20.00
NZD
Category: Colouring books
Tiptoe through the wildflowers to discover a world of intricate botanical illustrations, courtesy of botanical master, Adriana Picker. These unique Australian floral shapes are beautifully rendered on the page, allowing you to sit back and immerse yourself in nature as you enjoy the therapeutic benefits of this popular artistic pastime. ...Show more