$27.99
NZD
Category: Fiction - Fantasy | Series: The Old Kingdom
Lirael is no longer a shy Second Assistant Librarian. She is the Abhorsen-in-Waiting, with dead creatures to battle and Free Magic entities to bind. She's also a Remembrancer, wielder of the Dark Mirror. Lirael lost one of her hands in the binding of Orannis, but now she has a new hand, one of gilded st eel and Charter Magic. When Lirael finds Nicholas Sayre lying unconscious after being attacked by a hideous Free Magic creature, she uses her powers to save him. But Nicholas is deeply tainted with Free Magic. Fearing it will escape the Charter mark that seals it within his flesh and bone, Lirael seeks help for Nick at her childhood home, the Clayr's Glacier. Even as Lirael and Nick return to the Clayr, a young woman from the distant north braves the elements and many enemies in a desperate attempt to bring a message to Lirael from her long-dead mother, Arielle. Ferin brings a dire warning about the Witch With No Face. But who is the Witch, and what is she planning? Once more a great danger threatens the Old Kingdom, and it must be forestalled not only in the living world, but also in the cold, remorseless river of Death. ...Show more
$24.99
NZD
Category: Fiction - Fantasy | Series: Draconis Memoria Ser.
'Fabulous . . . Sure to be another fantasy classic' Huffington Post UK 'The world Ryan has created for his new dragon adventure is a joy to visualise' SciFiNow Claydon Torcreek is a Blood-blessed, able to channel the powers contained in the blood of wild drakes. While his brethren serve as elite spies and assassins, Clay prefers the life of a small-time criminal in the dangerous slums of Carvenport. Yet war is coming, and it seems Clay is going to end up on the losing side - unless he can track down a legendary drake, whose powerful blood might just be enough to achieve victory. Clay has handled many things in his time (most of them illegal) but nothing as priceless as his nation's future. Anthony Ryan - bestselling author of fantasy sensation Blood Song - delivers an action-packed epic fantasy of exploration and adventure, spies and assassins, explosive magic and the furious battle to forge an empire. 'A fascinating world packed with dragons, pirates, political machinations and an interesting magic system to boot' Fantasy Faction 'A marvellous piece of imagination with plenty of twists, a refreshingly different setting, and excellent world-building' Mark Lawrence 'Memorable characters and great action' Django Wexler 'Excellent epic fantasy' BookBag Books by Anthony Ryan: The Draconis Memoria The Waking Fire The Legion of Flame The Empire of Ashes Raven's Shadow Blood Song Tower Lord Queen of Fire ...Show more
$24.99
NZD
Category: Fiction - Fantasy | Series: Mistborn
From #1 New York Times bestselling author Brandon Sanderson, the Mistborn series is a heist story of political intrigue and magical, martial-arts action. Three hundred years after the events of the Mistborn trilogy, Scadrial is now on the verge of modernity, with railroads to supplement the canals, ele ctric lighting in the streets and the homes of the wealthy, and the first steel-framed skyscrapers racing for the clouds. The Bands of Mourning are the mythical metal minds owned by the Lord Ruler, said to grant anyone who wears them the powers that the Lord Ruler had at his command. Hardly anyone thinks they really exist. A kandra researcher has returned to Elendel with images that seem to depict the Bands, as well as writings in a language that no one can read. Waxillium Ladrian is recruited to travel south to the city of New Seran to investigate. Along the way he discovers hints that point to the true goals of his uncle Edwarn and the shadowy organization known as The Set. Other Tor books by Brandon Sanderson The CosmereThe Stormlight ArchiveThe Way of KingsWords of RadianceEdgedancer (Novella)Oathbringer (forthcoming)The Mistborn trilogyMistborn: The Final EmpireThe Well of AscensionThe Hero of AgesMistborn: The Wax and Wayne seriesAlloy of LawShadows of SelfBands of Mourning CollectionArcanum Unbounded Other Cosmere novelsElantrisWarbreaker The Alcatraz vs. the Evil Librarians seriesAlcatraz vs. the Evil LibrariansThe Scrivener's BonesThe Knights of CrystalliaThe Shattered LensThe Dark Talent The Rithmatist seriesThe Rithmatist Other books by Brandon SandersonThe ReckonersSteelheartFirefightCalamity ...Show more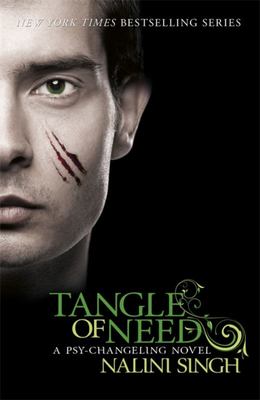 $25.00
NZD
Category: Fiction - Fantasy | Series: Psy-Changeling Series
Adria, wolf changeling and resilient soldier, has made a break with the past. Now comes a new territory, and a devastating new complication: Riaz, a SnowDancer lieutenant already sworn to someone else. For Riaz, the primal attraction he feels for Adria is a staggering betrayal. For Adria, his dangerous lone-wolf appeal is beyond sexual. It consumes her. It terrifies her. It threatens to undermine everything she has built of her new life. But fighting their wild compulsion toward one another proves a losing battle. Their coming together is an inferno ...and a melding of two wounded souls who promise each other no commitment, no ties, no bonds. Only pleasure. Too late, they realise that they have more to lose than they ever imagined. Drawn into a cataclysmic Psy war that may alter the fate of the world itself, they must make a decision that might just break them both. ...Show more
$28.00
NZD
Category: Fiction - Fantasy | Series: The Codex Alera
For a thousand years, the people of Alera have united against the aggressive races that inhabit the world, using their unique bond with the furies - elementals of earth, air, fire, water and metal. But now, Gaius Sextus, First Lord of Alera, grows old and lacks an heir. Ambitious Lords manoeuvre to plac e their Houses in positions of power, and a war of succession looms on the horizon. Far from city politics in the Calderon Valley, young Tavi struggles with his lack of furycrafting. At fifteen, he has no wind fury to help him fly, no fire fury to light his lamps. Yet as the Alerans' most savage enemy - the Marat - return to the Valley, his world will change. Caught in a storm of deadly wind furies, Tavi saves the life of a runaway slave. But Amara is actually a spy, seeking intelligence on possible Marat traitors to the Crown. And when the Valley erupts into chaos - when rebels war with loyalists and furies clash with furies - Amara will find Tavi invaluable. His talents will outweigh any fury-born power - and could even turn the tides of war. ...Show more
$25.00
NZD
Category: Fiction - Fantasy | Series: The\Firemane Saga Ser. | Reading Level: good
A new novel from internationally bestselling author Raymond E. Feist. The world of Garn once boasted five great kingdoms, until the King of Ithrace was defeated and every member of his family executed by Lodavico, the ruthless King of Sandura, a man with ambitions to rule the world. Ithrace's ruling fam ily were the legendary Firemanes, and represented a great danger to the other kings. Now four great kingdoms remain, on the brink of war. But rumour has it that the newborn son of the last king of Ithrace survived, carried off during battle and sequestered by the Quelli Nacosti, a secret society whose members are trained to infiltrate and spy upon the rich and powerful throughout Garn. Terrified that this may be true, and that the child will grow to maturity with bloody revenge in his heart, the four kings have placed a huge bounty on the child's head. In the small village of Oncon, Declan is apprenticed to a master blacksmith, learning the secrets of producing the mythical king's steel. Oncon is situated in the Covenant, a neutral region lying between two warring kingdoms. Since the Covenant was declared, the region has existed in peace, until violence explodes as slavers descend upon the village to capture young men to press as soldiers for Sandura. Declan must escape, to take his priceless knowledge to Baron Daylon Dumarch, ruler of Marquensas, perhaps the only man who can defeat Lodavico of Sandura, who has now allied himself with the fanatical Church of the One, which is marching across the continent, imposing its extreme form of religion upon the population and burning unbelievers as they go. Meanwhile, on the island of Coaltachin, the secret domain of the Quelli Nacosti, three friends are being schooled in the deadly arts of espionage and assassination: Donte, son of one of the most powerful masters of the order; Hava, a serious girl with fighting abilities that can set any opponent on their back; and Hatu, a strange, conflicted lad in whom fury and calm war constantly, whose hair is a bright and fiery shade of red... ...Show more
$25.00
NZD
Category: Fiction - Fantasy | Series: Wheel of Time Ser.
The Wheel of Time (R) is a PBS Great American Read Selection Now in development for TV Since its debut in 1990, The Wheel of Time(R) by Robert Jordan has captivated millions of readers around the globe with its scope, originality, and compelling characters.The Wheel of Time turns and Ages come and go, leaving memories that become legend. Legend fades to myth, and even myth is long forgotten when the Age that gave it birth returns again. In the Third Age, an Age of Prophecy, the World and Time themselves hang in the balance. What was, what will be, and what is, may yet fall under the Shadow. The Seanchan invasion force is in possession of Ebou Dar. Nynaeve, Elayne, and Aviendha head for Caemlyn and Elayne's rightful throne, but on the way they discover an enemy much worse than the Seanchan. In Illian, Rand vows to throw the Seanchan back as he did once before. But signs of madness are appearing among the Asha'man. In Ghealdan, Perrin faces the intrigues of Whitecloaks, Seanchan invaders, the scattered Shaido Aiel, and the Prophet himself. Perrin's beloved wife, Faile, may pay with her life, and Perrin himself may have to destroy his soul to save her. Meanwhile the rebel Aes Sedai under their young Amyrlin, Egwene al'Vere, face an army that intends to keep them away from the White Tower. But Egwene is determined to unseat the usurper Elaida and reunite the Aes Sedai. She does not yet understand the price that others--and she herself--will pay. TV series update: "Sony will produce along with Red Eagle Entertainment and Radar Pictures. Rafe Judkins is attached to write and executive produce. Judkins previously worked on shows such as ABC's "Agents of SHIELD," the Netflix series "Hemlock Grove," and the NBC series "Chuck." Red Eagle partners Rick Selvage and Larry Mondragon will executive produce along with Radar's Ted Field and Mike Weber. Darren Lemke will also executive produce, with Jordan's widow Harriet McDougal serving as consulting producer." --Variety The Wheel of Time(R)New Spring: The Novel#1 The Eye of the World#2 The Great Hunt#3 The Dragon Reborn#4 The Shadow Rising#5 The Fires of Heaven#6 Lord of Chaos#7 A Crown of Swords#8 The Path of Daggers#9 Winter's Heart#10 Crossroads of Twilight#11 Knife of Dreams By Robert Jordan and Brandon Sanderson#12 The Gathering Storm#13 Towers of Midnight#14 A Memory of Light By Robert Jordan and Teresa PattersonThe World of Robert Jordan's The Wheel of Time By Robert Jordan, Harriet McDougal, Alan Romanczuk, and Maria SimonsThe Wheel of Time Companion By Robert Jordan and Amy RomanczukPatterns of the Wheel: Coloring Art Based on Robert Jordan's The Wheel of Time ...Show more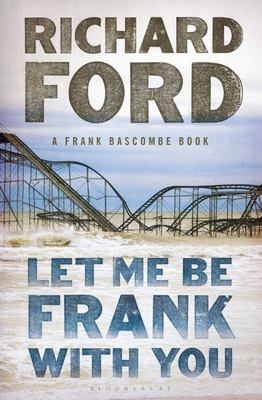 $36.99
NZD
Category: Short Stories | Series: Frank Bascombe Ser.
In his masterful trio of novels portraying the life of an entire American generation, Richard Ford has imagined one of the most indelible and widely-discussed characters in modern literature, Frank Bascombe. Now, in LET ME BE FRANK WITH YOU, Bascombe returns. Sixty-seven years old, ensconced in a quiet suburb in Haddam, New Jersey, Frank lives with his second wife Sally, enjoying the 'Next Level of life' - retirement. Unfolding over several days before Christmas, we follow Bascombe as he navigates life in the aftermath of the devastating Hurricane Sandy. While Frank's house has been spared, the only damage to his property a broken windshield on his car, the effects of the hurricane seep into his life. His duty is to listen - to the man who bought Frank's beachfront house that now lies in ruins; to the woman left homeless by the storm that turns up on his doorstep; to his ex-wife, convinced that the hurricane has caused the Parkinson's disease that is slowly ravaging her body; and to an old acquaintance with advanced cancer, who ruminates painfully on his past. In these four richly luminous, entwined narratives, Ford charts the waning years of Frank Bascombe, protean, funny, profane, wise, often inappropriate, as he attempts to reconcile, interpret and console a world undone by calamity. LET ME BE FRANK WITH YOU is both a moving, wondrous and extremely funny odyssey through modern America and a brilliantly nuanced meditation on ageing, grief and acceptance from a writer at the absolute height of his powers. ...Show more
$26.00
NZD
Category: Short Stories
There's something eerily unsettling about Ottessa Moshfegh's stories, something almost dangerous while also being delightful - and often even weirdly hilarious. Her characters are all unsteady on their feet; all yearning for connection and betterment, in very different ways, but each of them seems desti ned to be tripped up by their own baser impulses. What makes these stories so moving is the emotional balance that Moshfegh achieves - the way she exposes the limitless range of self-deception that human beings can employ while, at the same time, infusing the grotesque and outrageous with tenderness and compassion. The flesh is weak; the timber is crooked; people are cruel to each other, and stupid, and hurtful, but beauty comes from strange sources, and the dark energy surging through these stories is oddly and powerfully invigorating. One of the most gifted and exciting young writers in America, she shows us uncomfortable things, and makes us look at them forensically - until we find, suddenly, that we are really looking at ourselves. ...Show more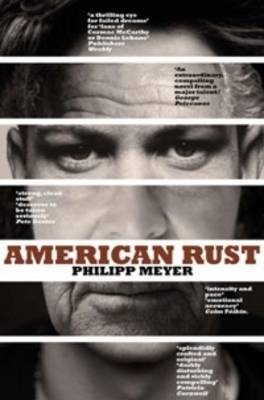 $38.00
NZD
Category: Fiction - Contemporary
Set in a beautiful but economically devastated Pennsylvania steel town, American Rust is a novel of the lost American dream and the desperation - as well as the acts of friendship, loyalty and love - that arises from its loss. From local bars to trainyards to prison, it is the story of two young men, bo und to the town by family, responsibility, inertia, and the beauty around them, who dream of a future beyond the factories and abandoned homes. Left alone to care for his aging father after his mother commits suicide and his sister escapes to Yale, Isaac English longs for a life beyond his hometown. But when he finally sets out to leave for good, accompanied by his temperamental best friend Billy Poe, they are caught up in a terrible act of violence that changes their lives forever. Evoking John Steinbeck's novels of restless lives during the Great Depression, American Rust takes us into the contemporary American heartland at a moment of profound unrest and uncertainty about the future. ...Show more
$35.00
NZD
Category: Fiction - Contemporary
Nick Duncan is a semi-retired, wealthy shipping magnate who lives in idyllic Beautiful Bay, Vanuatu, where he is known as the old patriarch of the islands. He is grieving the loss of his beguiling Eurasian true love, Anna, and is suffering for the first time from disturbing flashbacks to the Second Worl d War. So he puts pen to paper and tells the compelling tale of the life he has lived since his war-hero days. It's an adventurous life that has had at its heart the love of two passionate and unforgettable - but very different - women. The seductive Anna Til and the beguiling Marg Hamilton have spent a lifetime in contest for Nick's devotion. Nick remains torn between them, and struggles between their two opposing worlds of economic exploitation and environmental crusade - until he is called upon to referee...Moving between the exotic Pacific Islands, Japan and Australia, over several decades, Fishing for Stars is an epic drama of adventure, ambition and unconventional love, and the stunning sequel to Bryce Courtenay's best-selling The Persimmon Tree. 'Just the right level of intellectual and emotional stimulation for a relaxing holiday read.' Sunday Age 'Fishing for Stars has, at its heart, two passionate, unforgettable - but very different - women. One is exotic, damaged and shrewd, the other beautiful, determined and zealous.' Sunday Telegraph brycecourtenay.com facebook.com/BryceCourtenay ...Show more
$26.00
NZD
Category: Fiction - Contemporary
Streetwise George and his big, childlike friend Lennie are drifters, searching for work in the fields and valleys of California. They have nothing except the clothes on their back, and a hope that one day they'll find a place of their own and live the American dream. But dreams come at a price. Gentle g iant Lennie doesn't know his own strength, and when they find work at a ranch he gets into trouble with the boss's daughter-in-law. Trouble so bad that even his protector George may not be able to save him . . . ...Show more