Ready To Paint In 30 Minutes: Landscapes In Watercolour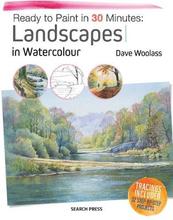 Stock information
: $38

.00

(NZD)

: 9781782214144
: Search Press Limited
: Search Press Limited
:
: 1.112
: February 2018
: 280mm X 216mm
: United Kingdom
: 37.99
: February 2018
:
:
: books
:
:
: Dave Woolass
: Ready to Paint in 30 Minutes
: Paperback
:
:
: English
: 751.422436
:
:
: 128
:
: 450 Illustrations, color
:
:
:
9781782214144
Description
This guide to painting watercolour landscapes is ideal if you want to learn to paint but are short on time. Broken down into 33 quick and easy paintings that take no more than 30 minutes to complete, this basic course will teach you all the skills you need to paint landscapes and their components, including trees in winter, sparkling water, hedgerows and gates, animals, human figures and buildings in the landscape. The 30-minute paintings are all worked at postcard size - ideal for a 6 x 4in (A6) watercolour pad, and tracings are included for those with limited drawing skills. Each small painting is a work of art in its own right, and can be stored in your portfolio for reference later, or framed and hung on the wall to impress your friends. The book is broken down into chapters that focus, respectively, on essential watercolour techniques including colour mixing and glazing; laying washes and creating skies and realistic-looking clouds; the rudiments of composition; trees and flowers in a landscape; water- still and moving, from stream to open sea; and the living landscape - human and animal figures, structures and buildings in the landscape. The final section of the book contains three complete paintings that demonstrate how to combine all the techniques and elements of painting landscapes, as gleaned from the preceding chapters. These paintings, too, are accompanied by actual-size tracings. There are 33 tracings in all to help you compose your own landscape paintings. Praise for the Ready to Paint in 30 Minutes series: "This is a genuinely exciting evolution of a popular series. You'll be guided through some simple exercises and on to complete paintings, gaining valuable insights that will develop and improve your skills." - Henry Malt, Artbookreview.net
Author description
Dave Woolass is one of the UK's leading artists with a strong art background spanning more than forty years. Born and raised in Yorkshire, UK, he began his working life as a trainee manager within the retail industry. Painting and drawing were always his first loves, however, and it was inevitable that Dave should turn to making a living from his artwork. For many years Dave has delivered private art classes to small groups of students, and has delivered workshops and seminars nationwide for various art societies and galleries. He has frequently been commissioned by companies to demonstrate art materials at art events as well as on live television. Dave's artwork features in many collections across the globe including UK, USA, Canada, New Zealand, Australia, Japan, and the Middle East, and he has also appeared on the popular UK TV programme, `A Brush with Fame'. In 2001 the Fine Art Trade Guild of Great Britain elected Dave to the Court of the Guild in 2001. He was elected as The Masters Warden in 2003 and was ultimately elected `Master of the Fine Art Trade Guild' in 2004.
Table of contents
Tracings Introductionâ 6 Basic painting equipmentâ 8 Colour mixingâ 10 Colourful greysâ 12 Mixing greensâ 14 Glazingâ 16 Winter sceneâ 18 Figures in a gladeâ 20 Washes and skiesâ 22 Calm landscapeâ 24 Morning skyâ 26 A darker dayâ 28 Cloudsâ 30 Stormy nightâ 32 Pale dawn skyâ 34 A moody skyâ 36 Compositionâ 38 By the lakeâ 40 Fencesâ 42 Fence line in the snowâ 44 Trees and flowers 46 Hedgerowsâ 48 Layered foliageâ 50 Spring foliageâ 52 Summer treeâ 54 Autumn treeâ 56 Winter treesâ 58 Poppy fieldâ 60 Wildflower patchâ 62 Flowerbedsâ 64 Waterâ 66 Giving water depth and sparkleâ 68 Boat on open waterâ 70 Waterfallâ 72 The living landscapeâ 74 The ramblerâ 76 Watching the gondolasâ 78 Distant sheepâ 80 Dry-stone bridgeâ 82 Farm buildingâ 84 Distant buildingsâ 86 The urban landscapeâ 88 Country Cottageâ 90 Boats on a Lakeâ 92 Autumn Walkâ 94 Indexâ 96