How To Paint Pastels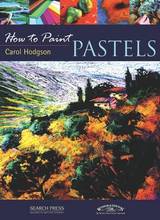 Stock information
: $30

.00

(NZD)

: 9781844483655
: Search Press Ltd
: Search Press Ltd
:
:
: October 2009
: 292mm X 216mm
: United Kingdom
: 30.0
:
:
:
: books
:
:
:
:
:
:
: 216 colour illustrations
: Art techniques & materials; Handicrafts; Painting & paintings
: 64
: Carol Hodgson
:
: 751.4
:
:
:
: Paperback
: How to Paint
9781844483655
Description
Carol Hodgson's vibrant, lively paintings reflect her love of pastels and the versatility of this medium. Using a range of simple and unusual techniques, she shows how to create amazing paintings full of light, texture and atmosphere. This is an inspirational and practical guide packed with information. Pastel properties and techniques are simply explained in it. It offers clear advice on mark making, blending and using fixative. It is packed with handy tips and practical guidance. It features three beautiful step-by-step demonstrations.
Reviews
There's plenty of good information on using pastels in this book as well as on sketching. Carol then demonstrates three step-by-step pastels. This is a useful book for anyone interested in using this medium with clear instructions and photographs showing techniques. There is also a gallery of work providing further inspiration.-KarenPlatt.co.uk I tend to associate pastels with warm weather because I like to have bare arms when working with them - the color tends to come off on my sleeves! Perhaps I need a book like this, despite not being a beginner because I could do with owning a book that tells me something beyond the basics when using this fascinating medium - I've always liked pastels; essentially they are crayons for adults and I find they free me up, as they don't come with the baggage that paints seem to carry with them. This book is about using hard and soft pastels (not oil crayons) and the tremendous range of effects they are capable of. You can find out what types of paper are best and what else you need to purchase (not too much) and also how to store and transport these very fragile items. Learn how best to work with them and what techniques to use depending on what you want to depict, then work through some projects. These are of the photographic staged variety, with nice large photos so you can see what is going on when working on a dark background. Choose from sunflowers, a Tuscan scene and gondola mooring poles with reflections in Venice to practice your skills. Obviously this is just a taste of what pastels are capable of and this is not a thick book, but you can learn quite a lot from reading then and working through the exercises in here including how to protect your clothes. A good basic grounding in the subject.-Myshelf.com The How to Paint series is perfect for those artists wanting to try a new medium and who are looking for help to build up their confidence and skills. They are colourful, well-designed, full of ideas, information and step-by-step instruction. In Pastels, Carol Hodgson includes advice on materials, shows how to master the basic techniques, looks at ways of mixing and harmonising colours, and demonstrates both sketching and studio working methods. Throughout, the topics are easy to follow and beautifully illustrated.-The Artist
Author description
Carol Hodgson has over twenty-five years' experience as a self-employed professional artist. During that time she has worked in most media, but in recent years her work has reflected a love for soft pastel. She has fast gained a reputation through her expressive techniques and bold use of colour and texture. She has written for several art magazines and instruction books and is regularly invited to demonstrate her painting methods to art groups and societies.