Junkyard Planet: Travels In The Billion Dollar Trash Trade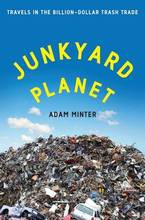 Stock information
: $39

.99

(NZD)

: Bloomsbury Publishing USA
:
: 235mm X 155mm X 28mm
: United States
: 0.614
: 9781608197910
: 0.0
: Bloomsbury Publishing USA
: November 2013
: general
9781608197910
Promotion info
How can garbage turn into gold? What does recycling have to do with globalization? Where does all that stuff we throw away go, anyway?
Reviews
Minter successfully resists oversimplifying the issue China currently faces - with a growing middle class demanding more raw material for new construction, the options are living with the pollution caused by recycling or the environmental consequences of mining for raw materials...Minter concludes that the solution is in the first word in the phrase, 'Reduce. Reuse. Recycle.' Publishers Weekly A detailed view of a mostly unknown business that touches the lives of everyone, whether or not they ever dragged a trash and/or recycle bin out to the curb. Kirkus Reviews Minter is here to tell you that there's big money to be made in what American consumers and industries throw away. As he travels the world from Houston to Guangzhou, surveying the debris and discards that fill scrap yards and warehouses, Minter takes the reader into a world of commodities trading that is every bit as lucrative and cutthroat as anything on Wall Street. The son of a scrap man, Minter brings an insider's knowledge and appreciation for an industry that no one thinks about, everyone contributes to, and a lucky few profit from. Booklist A satisfying investigation-cum-travelogue. Mother Jones Fascinating. Atlantic Cities Lively and entertaining...Junkyard Planet is a book for anyone interested in the environment, the economics of recycling, or a thoughtful look at the consumption we take for granted. Brooklyn Bugle
Description
When you drop your Diet Coke can or yesterday's newspaper in the recycling bin, where does it go? Probably halfway around the world, to people and places that clean up what you don't want and turn it into something you can't wait to buy. In Junkyard Planet, Adam Minter-veteran journalist and son of an American junkyard owner-travels deep into a vast, often hidden, five- hundred-billion-dollar industry that's transforming our economy and environment.
With unmatched access to and insight on the waste industry, and the explanatory gifts and an eye for detail worthy of a John McPhee or a William Langewiesche, Minter traces the export of America's junk and the massive profits that China and other rising nations earn from it. What emerges is an engaging, colorful, and sometimes troubling tale of how the way we consume and discard stuff fuels a world that recognizes value where Americans don't. Junkyard Planet reveals that Americans might need to learn a smarter way to take out the trash.