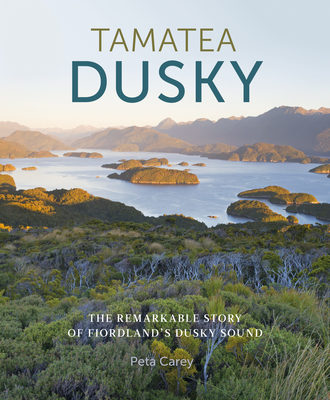 $14.00
NZD
Category: NZ - Natural History | Series: Mini Guide to the Identification of New Zealand...
A handy guide to the identification of New Zealand insects. Condensed from Andrew Crowe's popular bestseller Which New Zealand Insect?, this little book has been designed to fit into a pocket, day pack or bag. Full of essential information for quick, accurate identification of insects and packed with co lour photography, this new mini guide is the perfect outdoor companion! ...Show more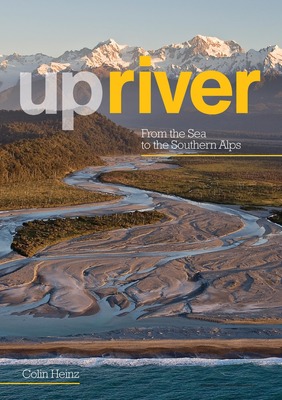 Upriver
by Colin Heinz
$50.00
NZD
Category: NZ - Guidebooks
Upriver will appeal to everyone who loves New Zealand's South Island/Te Waipounamu and wants to find out more about the formation of its diverse landscapes and the story of human settlement since the very first landings about eight centuries ago. It will also provide all the information needed by those wishing to retrace the author's footsteps, either in the easily accessible regions of the west or east coasts, or in the more challenging mountainous regions of the South Island/Te Waipounamu. An absorbing blend of trip descriptions laced with background notes about the meaning and significance of places that were encountered, it tells the story of the author's journeys to the principal sources of each of the 24 rivers that flow down to the sea from the Main Divide of the Southern Alps. Each of the 24 chapters in this book paints a full-length portrait of the water catchment areas of the 24 rivers that flow all the way down to the sea from the Main Divide of the Southern Alps/Kā Tiritiri o te Moana, including its highest peaks and lowest Main Divide passes. Those portraits fit together like the pieces of a jigsaw puzzle to form a comprehensive picture of this unique island. Safe backcountry trips require detailed knowledge of the terrain, situational awareness, teamwork, and contingency plans. The backcountry trips that are described in this book were spread over five decades, mainly in late summer-early autumn when weather conditions are usually more favourable. Only experienced, well-equipped parties should undertake them when they go further than river lowlands. ...Show more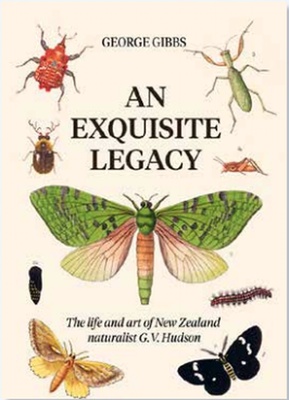 $60.00
NZD
Category: NZ - Natural History
The biography of one of New Zealand's greatest naturalist-artists, G. V.Hudson. George Hudson, 1867-1946, was one of New Zealand's pioneer naturalists, who devoted his life to collecting and describing the New Zealand insect fauna. He amassed what is probably the largest collection of New Zealand insec ts, now housed at Te Papa. Hudson also wrote seven books on insect fauna between 1898 and 1946, each illustrated in colour with immaculate paintings of the specimens, a total of over 3100 paintings, mainly focused on months and butterflies. An Exquisite Legacy is a biography of Hudson, written by his grandson Dr George Gibbs, himself a prominent entomologist. Gibbs outlines the life of this naturalist and artist, whose dedication and output was truly remarkable. Hudson remained an amateur naturalist his whole life, but his contribution to our knowledge about the New Zealand insect world is of enduring significance, while his artistic legacy, built up over nearly seven decades, is truly remarkable. This extensive collection of exquisite illustrations is without parallel in New Zealand. Beautifully illustrated throughout, this biography of George Hudson is the first chance for most people to see his exquisite artwork. Up until now, his books have been valuable collectors' items unavailable to most people. A foreword by Courtney Johnston, Chief Executive of Te Papa Tongarewa, provided in recognition of the importance of this book, and the significance of the Hudson Collection at Te Papa. ...Show more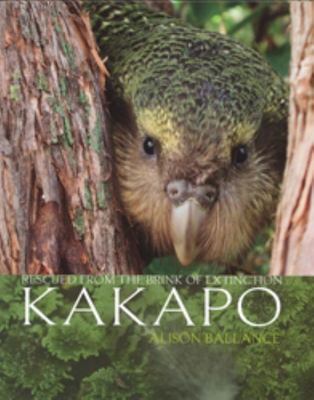 $50.00
NZD
Category: NZ - Natural History | Reading Level: near fine
Kakapo follows the fall and rise of one of the world's most unusual birds, from the brink of extinction, through a roller-coaster ride of hope and loss. One of New Zealand's most threatened species, these charismatic yet mysterious night parrots, are now found only on a small number of predator-free isl and sanctuaries in New Zealand and have been the focus of a remarkable world renowned New Zealand conservation effort since 1977. Kakapo: Rescued from the brink of extinction is a revised edition of the 2010 title of the same name, that includes all of the up-to-date details of the ongoing, innovative hard work of the Kakapo Recovery Programme, New Zealand's flagship threatened-species conservation story. After nearly 30 years of intensive management by the New Zealand Department of Conservation kakapo team, there are exciting times ahead for kakapo, as the summer of 2019 will be the biggest kakapo breeding season on record. The author, Alison Balance, has provided an informative and entertaining mix of hard facts, history, and accounts of the daily and seasonal routines of kakapo and their minders. This beautiful illustrated and inspiring book will appeal to anyone with an interest in ornithology and the natural world of New Zealand. ...Show more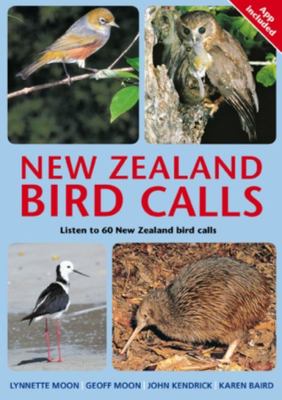 $30.00
NZD
Category: NZ - Natural History
Author Lynnette Moon gives 60 concise accounts of the country's best-loved birds, covering their habitat, appearance and behaviour. A description of their calls, along with photographs from the magnificent collection of her late husband Geoff Moon completes an attractive, fact-packed and useful guide. 60 links to birds' sings and calls, recorded in the wild by renowned wildlife sound recordist John Kendrick and prepared for this collection by Karen Baird of the Royal Forest and Bird Protection Society. Each track is introduced by acclaimed New Zealand actor George Henare.   ...Show more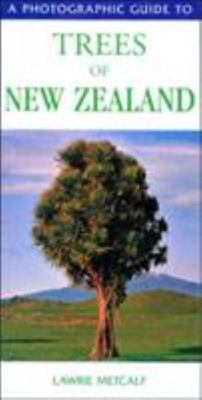 $30.00
NZD
Category: NZ - Natural History | Series: A\Photographic Guide To... Ser.
In this text, fact-filled descriptions highlighting key identification features of New Zealand trees are supported by distribution maps and colour photographs of over 100 species. Compact and easy to use, this text should appeal to those interested in natural history.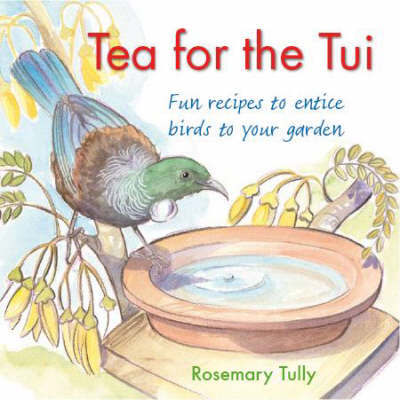 $22.00
NZD
Category: NZ - Natural History
Birds add an immeasurable element of life, movement and colour to your garden, and this delightful book of more than 35 recipes provides the ideal way of not only tempting them to pay a visit but also ensuring that they stay healthy all year round, particularly during winter. The recipes feature inexpen sive everyday items from the pantry and involve a minimum of fuss, making the preparation an enjoyable activity to share with friends and family. They cater to both native and introduced birds, from tui (of course) and silvereye to thrushes, finches and blackbirds. And if you want to learn more about birds and their conservation in New Zealand, a short directory of contacts at the back of the book will point you in the right direction. ...Show more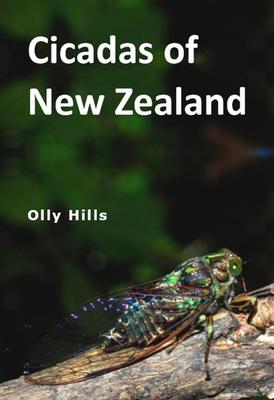 $30.00
NZD
Category: NZ - Natural History
Learn all about New Zealand's many cicadas with this book. Discover the large and loud clapping cicadas, green kikihia cicadas, small black cicadas the colourful redtail cicadas and more. Detailed descriptions, colour photographs and location maps will help you identify cicadas throughout New Zealand. T his book also includes plenty of general information on New Zealand cicadas, including a description of the cicada life cycle and how to catch cicadas. ...Show more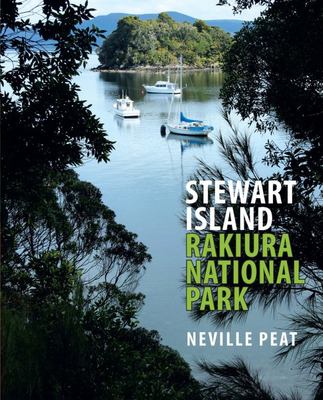 $25.00
NZD
Category: NZ - Natural History
Stewart Island is an increasingly popular holiday destination for eco-tourism and outdoor recreation, with many bush walks and a wealth of natural features to enjoy. Neville Peat introduces the attractions of the island - what to see and do, its walks and tramps, its national park, wildlife, history and magnificent scenery. ...Show more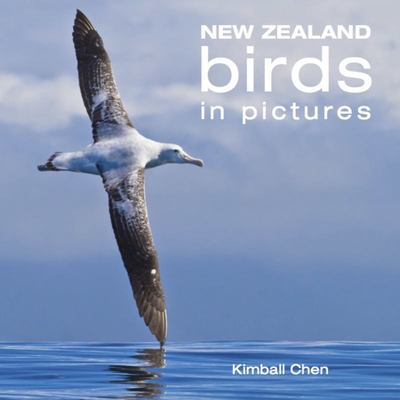 $50.00
NZD
Category: NZ - Natural History
From the barely visible wings of the flightless kiwi to the immense wingspan of the wandering albatross, New Zealand's fragile islandecosystem is home to a diverse array of spectacular birds.Delve into the fascinating world of our feathered friends with author and wildlife photographer Kimball Chen. Fro m intimateportraits of endangered creatures and their glamorous breeding plumage, to dramatic wide angle birdscapes encompassing ruggedsub antarctic habitats, to magical fleeting encounters of birds courting and mating and hatching, Chen's passion for nature shineswith artistic and aesthetic photographs sure to pique a greater appreciation of New Zealand birds.Accompanying this illustrated photographic book is well researched and engaging text that enrich the images' depicted birdbehavior and biology. Discover which native bird's undersides have ultraviolet feathers. What underlies the musical prowess ofbirdsongs, and which New Zealand bird can mimic human speech Why do ...Show more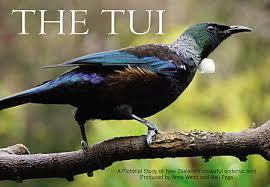 $25.00
NZD
Category: NZ - Natural History
A pictorial study of New Zealand's colourful endemic bird.  This stunning book, produced as a fundraiser for Native Bird Recovery Richmond, showcases the Tui in all its colourful glory. 78 pages of full colour world class photographs and fascinating Tui facts bring to life the bird which is we so often hear but rarely see closely enough to appreciate its incredible beauty.    This more compact version of the book is A5 in size and is perfect bound - an ideal gift. ...Show more