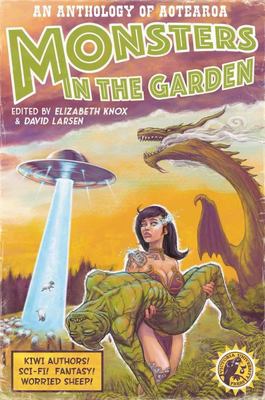 $35.00
NZD
Category: Fiction - Sci-Fi
Too stuffy inside? All those familiar social realist furnishings, all those comfortable literary tropes. Perhaps a stroll out under the trees, where things are breezier, stranger, more liable to break the rules. You may meet monsters out there, true. But that's the point. Casting its net widely, this a nthology of Aotearoa-New Zealand science fiction and fantasy ranges from the satirical novels of the 19th-century utopians – one of which includes the first description of atmospheric aerobreaking in world literature –to the bleeding edge of now. Spaceships and worried sheep. Dragons and AI. The shopping mall that swallowed the Earth. The deviant, the fishy and the rum, all bioengineered for your reading pleasure. Featuring stories by some of the country's best known writers as well as work from exciting new talent, Monsters in the Garden invites you for a walk on the wild side. We promise you'll get back safely. Unchanged? Well, that's another question. David Larsen is a Wellington-based writer and editor with a long-time love for science fiction, fantasy, and most adjacent genres or genre-like categories. Elizabeth Knox is the author of thirteen novels, three novellas, and a collection of essays. Her latest book is The Absolute Book. ...Show more
$26.00
NZD
Category: Fiction - Sci-Fi
***NOW A MAJOR MOTION PICTURE DIRECTED BY STEVEN SPIELBERG***A world at stake. A quest for the ultimate prize. Are you ready?It's the year 2044, and the real world has become an ugly place. We're out of oil. We've wrecked the climate. Famine, poverty, and disease are widespread. Like most of humanity, W ade Watts escapes this depressing reality by spending his waking hours jacked into the OASIS, a sprawling virtual utopia where you can be anything you want to be, where you can live and play and fall in love on any of ten thousand planets. And like most of humanity, Wade is obsessed by the ultimate lottery ticket that lies concealed within this alternate reality- OASIS founder James Halliday, who dies with no heir, has promised that control of the OASIS - and his massive fortune - will go to the person who can solve the riddles he has left scattered throughout his creation. For years, millions have struggled fruitlessly to attain this prize, knowing only that the riddles are based in the culture of the late twentieth century. And then Wade stumbles onto the key to the first puzzle.Suddenly, he finds himself pitted against thousands of competitors in a desperate race to claim the ultimate prize, a chase that soon takes on terrifying real-world dimensions - and that will leave both Wade and his world profoundly changed.If you loved READY PLAYER ONE and can't wait for more, check out ARMADA, Ernest Cline's latest geek masterpiece!'Wildly original and stuffed with irresistible nostalgia, Ready Player Oneis a spectacularly genre-busting, ambitious, and charming debut? Independent'Part intergalactic scavenger hunt, part romance, and all heart? CNN 'Ernest Cline?s novel deserves to be a modern classic? SciFiNow'Gorgeously geeky, superbly entertaining, this really is a spectacularly successful debut? Daily Mail ...Show more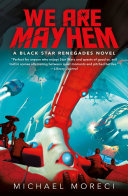 $33.00
NZD
Category: Fiction - Sci-Fi | Series: Black Star Renegades Ser.
Michael Moreci's We Are Mayhem is the second entry in the Star Wars-inspired series that Nerdist calls "the next big thing." Though the ragtag group of misfits known as the Black Star Renegades won a decisive battle by destroying Ga Halle's War Hammer, the war is far from over. In response to losing the crown jewel of its fleet, the evil Praxis empire has vengefully reinforced its tyranny across the galaxy--but its rule won't be had so easily. Led by hotshot pilot Kira Sen, a growing rebel force stands in the way of Praxis's might. Not only do they possess the will to fight for galactic freedom, they also possess the ultimate ace in the hole: The mythical Rokura, the most powerful weapon ever known.Too bad Cade Sura hasn't figured out to use it.As Kira wages an increasingly bloody war against Praxis, Cade is left with only once choice: With Ga Halle scouring every star system for the coveted weapon, Cade embarks on a dangerous mission into uncharted space to discover the Rokura's origins. Only then can he learn how it can be wielded. Because if he doesn't, all hope for the galaxy might be lost. ...Show more
$25.00
NZD
Category: Fiction - Sci-Fi | Series: Wayfarers | Reading Level: very good
SHORTLISTED FOR THE BAILEY'S WOMEN'S PRIZE FOR FICTION 'A quietly profound, humane tour de force' Guardian The beloved debut novel that will restore your faith in humanity #SmallAngryPlanet When Rosemary Harper joins the crew of the Wayfarer, she isn't expecting much. The ship, which has seen better day s, offers her everything she could possibly want: a small, quiet spot to call home for a while, adventure in far-off corners of the galaxy, and distance from her troubled past. But Rosemary gets more than she bargained for with the Wayfarer. The crew is a mishmash of species and personalities, from Sissix, the friendly reptillian pilot, to Kizzy and Jenks, the constantly sparring engineers who keep the ship running. Life on board is chaotic, but more or less peaceful - exactly what Rosemary wants. Until the crew are offered the job of a lifetime: the chance to build a hyperspace tunnel to a distant planet. They'll earn enough money to live comfortably for years... if they survive the long trip through war-torn interstellar space without endangering any of the fragile alliances that keep the galaxy peaceful. But Rosemary isn't the only person on board with secrets to hide, and the crew will soon discover that space may be vast, but spaceships are very small indeed. PRAISE FOR THE WAYFARERS 'Never less than deeply involving' DAILY MAIL 'Explores the quieter side of sci-fi while still wowing us with daring leaps of imagination' iBOOKS 'So much fun to read' HEAT 'Chambers is simply an exceptional talent, quietly and beautifully redefining the space opera' TOR.COM 'The most fun that I've had with a novel in a long, long time' iO9 ...Show more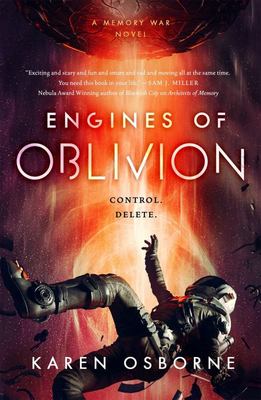 $40.00
NZD
Category: Fiction - Sci-Fi | Series: The\Memory War Ser.
Natalie Chan gained her corporate citizenship, but barely survived the battle for Tribulation.Now corporate has big plans for Natalie. Horrible plans.Locked away in Natalie's missing memory is salvation for the last of an alien civilization and the humans they tried to exterminate. The corporation wants to control both--completely. ...Show more
$40.00
NZD
Category: Fiction - Sci-Fi
26 new short stories representing the state of the art in international science fiction, selected by Lavie Tidhar. Twenty-six new short stories representing the state of the art in international science fiction, selected by Lavie Tidhar. The Best of World SF draws together stories from across the spectr um of science fiction – expect robots, spaceships and time travel, as well as some really weird stuff – representing twenty-one countries and five continents. Lavie Tidhar has selected stories that range from never-before-seen originals to award winners; from authors at every stage of their career; and a number of translations, including a story translated from Hebrew by Tidhar himself. Stories: 'Immersion' by Aliette de Bodard 'Debtless' by Chen Qiufan (trans. from Chinese by Blake Stone-Banks) 'Fandom for Robots' by Vina Jie-Min Prasad 'Virtual Snapshots' by Tlotlo Tsamaase 'What The Dead Man Said' by Chinelo Onwualu 'Delhi' by Vandana Singh 'The Wheel of Samsara' by Han Song (trans. from Chinese by the author) 'Xingzhou' by Yi-Sheng Ng 'Prayer' by Taiyo Fujii (trans. from Japanese by Kamil Spychalski) 'The Green Ship' by Francesco Verso (trans. from Italian by Michael Colbert) 'Eyes of the Crocodile' by Malena Salazar Macia (trans. from Spanish by Toshiya Kamei) 'Bootblack' by Tade Thompson 'The Emptiness in the Heart of all Things' by Fabio Fernandes 'The Sun From Both Sides' by R.S.A. Garcia 'Dump' by Cristina Jurado (trans. from Spanish by Steve Redwood) 'Rue Chair' by Gerardo Horacio Porcayo (trans. from Spanish by the author) 'His Master's Voice' by Hannu Rajaniemi 'Benjamin Schneider's Little Greys' by Nir Yaniv (trans. from Hebrew by Lavie Tidhar) 'The Cryptid' by Emil H. Petersen (trans. from Icelandic by the author) 'The Bank of Burkina Faso' by Ekaterina Sedia 'An Incomplete Guide...' by Kuzhali Manickavel 'The Old Man with The Third Hand' by Kofi Nyameye 'The Green' by Lauren Beukes 'The Last Voyage of Skidbladnir' by Karin Tidbeck 'Prime Meridian' by Silvia Moreno-Garcia 'If At First You Don't Succeed' by Zen Cho ...Show more
$38.00
NZD
Category: Fiction - Sci-Fi
To Sleep in a Sea of Stars is a brand new epic novel from New York Times bestselling author Christopher Paolini. Exploring new worlds is all Kira Navarez ever dreamed of doing. But now she has found her nightmare.  On a distant planet ripe for a colony, she has discovered a relic previously unseen by hu man eyes.   It will transform her entirely and forever.   Humanity will face annihilation.   She is alone. We are not.   There is no going back.     ...Show more
The Road
by Cormac McCarthy
$25.00
NZD
Category: Fiction - Contemporary
So good that it will devour you. It is incandescent. - Daily Telegraph The Road is the astonishing post-apocalyptic novel by Cormac McCarthy, and winner of the Pulitzer Prize. With an introduction by novelist John Banville. A father and his young son walk alone through burned America, heading slowly for the coast. Nothing moves in the ravaged landscape save the ash on the wind. They have nothing but a pistol to defend themselves against the men who stalk the road, the clothes they are wearing, a cart of scavenged food - and each other. Winner of the Pulitzer Prize for Fiction, The Road is an incandescent novel, the story of a remarkable and profoundly moving journey. In this unflinching study of the best and worst of humankind, Cormac McCarthy boldly divines a future without hope, but one in which, miraculously, this young family finds tenderness. An exemplar of post-apocalyptic writing, The Road is a true modern classic, a masterful, moving and increasingly prescient novel. ...Show more
$25.00
NZD
Category: Fiction - Sci-Fi
From the #1 New York Times bestselling author of the Reckoners series, Words of Radiance, the Mistborn trilogy, and the Stormlight Archive comes the sequel to Skyward. The epic adventure continues in this story of a girl with a secret in a dangerous world at war for humanity's future. All her life, Spe nsa has dreamed of becoming a pilot. Of proving she's a hero like her father. She made it to the sky, but the truths she learned about her father were crushing. The rumors of his cowardice are true--he deserted his flight during battle against the Krell. Worse, though, he turned against his team and attacked them. Spensa is sure there's more to the story. And she's sure that whatever happened to her father in his starship could happen to her. When she made it outside the protective shell of her planet, she heard the stars--and it was terrifying. Everything Spensa has been taught about her world is a lie. But Spensa also discovered a few other things about herself--and she'll travel to the end of the galaxy to save humankind if she needs to. ...Show more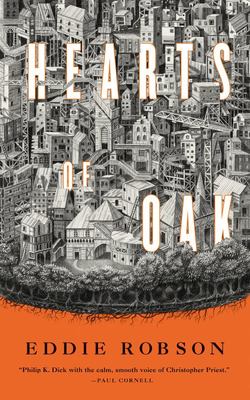 $27.00
NZD
Category: Fiction - Sci-Fi
Hearts of Oak is a delightful science fiction adventure from Eddie Robson, the creator of the acclaimed Welcome to Our Village, Please Invade Carefully. The buildings grow. And the city expands. And the people of the land are starting to behave abnormally. Or perhaps they've always behaved that way, and it's normality that's at fault. And the king of the land confers with his best friend, who happens to be his closest advisor, who also happens to be a talking cat. But that's all perfectly natural and not at all weird. Iona, close to retirement, finds that the world she has always known is nothing like she always believed it to be. There are dark forces . . . not dark. There are uncanny forces . . . no, not uncanny. There are forces, anyway, mostly slightly odd ones, and they appear to be acting in mysterious ways. It's about town planning, it's about cats and it's about the nature of reality. At the Publisher's request, this title is being sold without Digital Rights Management Software (DRM) applied. ...Show more
$20.00
NZD
Category: Fiction - Sci-Fi | Series: The\Three-Body Problem Ser. | Reading Level: very good
1967: Ye Wenjie witnesses Red Guards beat her father to death during China's Cultural Revolution. This singular event will shape not only the rest of her life but also the future of mankind. Four decades later, Beijing police ask nanotech engineer Wang Miao to infiltrate a secretive cabal of scientists after a spate of inexplicable suicides. Wang's investigation will lead him to a mysterious online game and immerse him in a virtual world ruled by the intractable and unpredictable interaction of its three suns. This is the Three-Body Problem and it is the key to everything: the key to the scientists' deaths, the key to a conspiracy that spans light-years and the key to the extinction-level threat humanity now faces. 'Cixin's trilogy is SF in the grand style, a galaxy-spanning, ideas-rich narrative of invasion and war' Guardian. 'Wildly imaginative, really interesting ... The scope of it was immense' Barack Obama, 44th President of the United States. ...Show more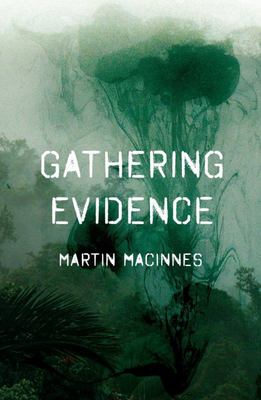 $23.00
NZD
Category: Fiction - Crime
Following up from his award-winning and critically acclaimed debut, Infinite Ground, Scottish novelist Martin MacInnes has written a deeply intelligent and thrilling novel on a family stalked by fear and uncertainty, and of a world both beautiful and terrible.