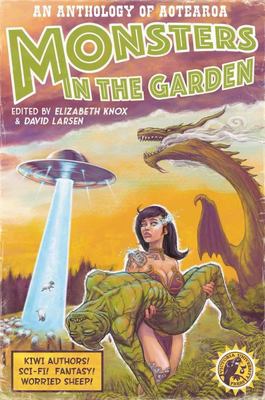 $35.00
NZD
Category: Fiction - Sci-Fi
Too stuffy inside? All those familiar social realist furnishings, all those comfortable literary tropes. Perhaps a stroll out under the trees, where things are breezier, stranger, more liable to break the rules. You may meet monsters out there, true. But that's the point. Casting its net widely, this a nthology of Aotearoa-New Zealand science fiction and fantasy ranges from the satirical novels of the 19th-century utopians – one of which includes the first description of atmospheric aerobreaking in world literature –to the bleeding edge of now. Spaceships and worried sheep. Dragons and AI. The shopping mall that swallowed the Earth. The deviant, the fishy and the rum, all bioengineered for your reading pleasure. Featuring stories by some of the country's best known writers as well as work from exciting new talent, Monsters in the Garden invites you for a walk on the wild side. We promise you'll get back safely. Unchanged? Well, that's another question. David Larsen is a Wellington-based writer and editor with a long-time love for science fiction, fantasy, and most adjacent genres or genre-like categories. Elizabeth Knox is the author of thirteen novels, three novellas, and a collection of essays. Her latest book is The Absolute Book. ...Show more
$38.00
NZD
Category: Fiction - Sci-Fi | Series: The\Salvation Sequence Ser.
Humanity rises to meet a powerful alien threat, in this extraordinary conclusion to Peter F. Hamilton's Salvation Sequence. This is a high-octane adventure from 'the most powerful imagination in science fiction' (Ken Follett).Live in hiding - or die for freedomHumanity welcomed the Olyix and their utopi an technology. But mankind was tricked. Now these visitors are extracting a terrible price.For two years, the Olyix have laid siege to Earth, harvesting its people for their god. One by one, cities are falling to their devastating weaponry. And while millions have fled to seek refuge in space, others continue to fight an apparently unwinnable war.As Earth's defeat draws near, a team attempts to infiltrate the Salvation of Life - the Olyix's arkship. If it succeeds, those chosen will travel to a hidden enclave thousands of light years away. Once there, they must signal its location to future generations, to bring the battle to the enemy. Maybe allies scattered throughout space and time can join forces. Yet in the far future, humanity are still hunted by their ancient adversary. And as forces battle on in the cold reaches of space, hope seems distant indeed . . .The Saints of Salvation is the epic conclusion to the Salvation Sequence by Peter F. Hamilton.'A vast, intricate sci-fi showstopper' - Guardian on Salvation'Exciting, wildly imaginative and quite possibly Hamilton's best book to date' - SFX Magazine on Salvation, 5 stars ...Show more
$25.00
NZD
Category: Fiction - Sci-Fi
Before The Matrix, before Star Wars, before Ender's Game and Neuromancer, there was Dune: winner of the prestigious Hugo and Nebula awards, and widely considered one of the greatest science fiction novels ever written. Melange, or 'spice', is the most valuable - and rarest - element in the universe; a drug that does everything from increasing a person's life-span to making intersteller travel possible. And it can only be found on a single planet: the inhospitable desert world Arrakis. Whoever controls Arrakis controls the spice. And whoever controls the spice controls the universe. When the Emperor transfers stewardship of Arrakis from the noble House Harkonnen to House Atreides, the Harkonnens fight back, murdering Duke Leto Atreides. Paul, his son, and Lady Jessica, his concubine, flee into the desert. On the point of death, they are rescued by a band for Fremen, the native people of Arrakis, who control Arrakis' second great resource: the giant worms that burrow beneath the burning desert sands. In order to avenge his father and retake Arrakis from the Harkonnens, Paul must earn the trust of the Fremen and lead a tiny army against the innumerable forces aligned against them. And his journey will change the universe.   ...Show more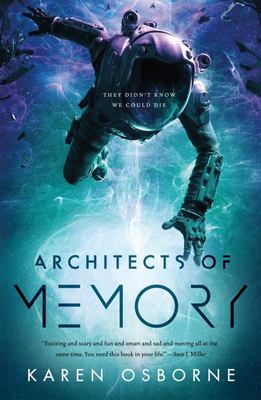 $38.00
NZD
Category: Fiction - Sci-Fi | Series: The\Memory War Ser.
Millions died after the first contact. An alien weapon holds the key to redemption--or annihilation. Experience Karen Osborne's unforgettable science fiction debut, Architects of Memory.   Terminally ill salvage pilot Ash Jackson lost everything in the war with the alien Vai, but she'll be damned if s he loses her future. Her plan: to buy, beg, or lie her way out of corporate indenture and find a cure. When her crew salvages a genocidal weapon from a ravaged starship above a dead colony, Ash uncovers a conspiracy of corporate intrigue and betrayal that threatens to turn her into a living weapon. ...Show more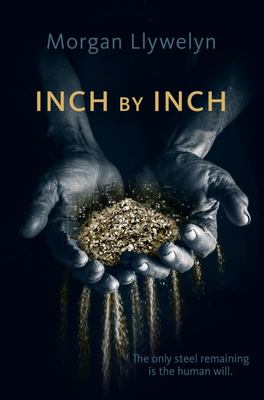 $35.00
NZD
Category: Fiction - Sci-Fi | Series: Step by Step Ser.
Bestselling author Morgan Llywelyn continues her near-future, apocalyptic thriller Step by Step trilogy with her signature depth and intimacy of character. InInch by Inch, book two in the trilogy, the residents of Sycamore River have only just adjusted to the end of the Change. Until the morning people notice that metal starts to behave oddly. It's dissolving. The world is pushed into global war, and a small band of Sycamore River survivors only have one another. They have to survive the unthinkable. Step by Step Drop by Drop ...Show more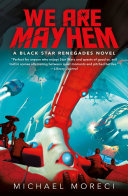 $33.00
NZD
Category: Fiction - Sci-Fi | Series: Black Star Renegades Ser.
Michael Moreci's We Are Mayhem is the second entry in the Star Wars-inspired series that Nerdist calls "the next big thing." Though the ragtag group of misfits known as the Black Star Renegades won a decisive battle by destroying Ga Halle's War Hammer, the war is far from over. In response to losing the crown jewel of its fleet, the evil Praxis empire has vengefully reinforced its tyranny across the galaxy--but its rule won't be had so easily. Led by hotshot pilot Kira Sen, a growing rebel force stands in the way of Praxis's might. Not only do they possess the will to fight for galactic freedom, they also possess the ultimate ace in the hole: The mythical Rokura, the most powerful weapon ever known.Too bad Cade Sura hasn't figured out to use it.As Kira wages an increasingly bloody war against Praxis, Cade is left with only once choice: With Ga Halle scouring every star system for the coveted weapon, Cade embarks on a dangerous mission into uncharted space to discover the Rokura's origins. Only then can he learn how it can be wielded. Because if he doesn't, all hope for the galaxy might be lost. ...Show more
$40.00
NZD
Category: Fiction - Sci-Fi
A special 42nd Anniversary edition of Douglas Adams' mega-selling cult classic: now in one handy paperback volume!A phenomenon across all formats, this new paperback omnibus contains the complete Hitchhiker's Guide trilogy in five parts, charting the whole of Arthur Dent's odyssey through space and time , plus a bonus short story, Young Zaphod Plays It Safe, and a special undeleted scene.The Hitchhiker's Guide to the Galaxy One Thursday lunchtime the Earth gets unexpectedly demolished to make way for a new hyperspace bypass. For Arthur Dent, who has only just had his house demolished that morning, this seems already to be rather a lot to cope with. Sadly, however, the weekend has only just begun. The Galaxy may offer a mind-boggling variety of ways to be blown up and/or insulted, but it's very hard to get a cup of tea.The Restaurant at the End of the Universe When all questions of space, time, matter and the nature of being have been resolved, only one question remains - Where shall we have dinner? The Restaurant at the End of the Universe provides the ultimate gastronomic experience, and for once there is no morning after to worry about.Life, the Universe and Everything Following a number of stunning catastrophes, Arthur Dent is surprised to find himself living in a hideously miserable cave on prehistoric Earth. However, just as he thinks that things cannot get possibly worse, they suddenly do. An eddy in the space-time continuum lands him, Ford Prefect, and their flying sofa in the middle of the cricket ground at Lord's, just two days before the world is due to be destroyed by the Vogons. Escaping the end of the world for a second time, Arthur, Ford, and their old friend Slartibartfast embark (reluctantly) on a mission to save the whole galaxy from fanatical robots. Not bad for a man in his dressing gown.So Long, and Thanks for All the Fish There is a knack to flying. The knack lies in learning how to throw yourself at the ground and miss. It's not an easy thing to do, and Arthur Dent thinks he's the only human who's been able to master this nifty little trick - until he meets Fenchurch, the woman of his dreams. Fenchurch once realised how the world could be made a good and happy place. Unfortunately, she's forgotten. Convinced that the secret lies within God's Final Message to His Creation, they go in search of it. And, in a dramatic break with tradition, actually find it!Mostly Harmless Arthur Dent has settled down on the small planet Lamuella and has embraced his role as a Sandwich Maker. However, his plans for a quiet life are thrown awry by the unexpected arrival of his daughter. There's nothing worse than a frustrated teenager with a copy of the Hitchhiker's Guide to the Galaxy in her hands! When she runs away, Arthur goes after her determined to save her from the horrors of the universe. After all - he's encountered most of them before. ...Show more
$37.00
NZD
Category: Fiction - Sci-Fi
A legend begins in Dune: Duke of Caladan - first in the Caladan Trilogy which will lead into the events of the original Dune.   Leto Atreides, Duke of Caladan and father of the Muad'Dib. While all know of his fall and the rise of his son, little is known about the quiet ruler of Caladan and his partner Jessica. Or how a Duke of an inconsequential planet earned an emperor's favor, the ire of House Harkonnen, and set himself on a collision course with his own death. This is the story.      Through patience and loyalty, Leto serves the Golden Lion Throne. Where others scheme, the Duke of Caladan acts. But Leto's powerful enemies are starting to feel that he is rising beyond his station, and House Atreides rises too high. With unseen enemies circling, Leto must decide if the twin burdens of duty and honor are worth the price of his life, family, and love. ...Show more
$38.00
NZD
Category: Fiction - Sci-Fi
To Sleep in a Sea of Stars is a brand new epic novel from New York Times bestselling author Christopher Paolini. Exploring new worlds is all Kira Navarez ever dreamed of doing. But now she has found her nightmare.  On a distant planet ripe for a colony, she has discovered a relic previously unseen by hu man eyes.   It will transform her entirely and forever.   Humanity will face annihilation.   She is alone. We are not.   There is no going back.   ...Show more
$37.00
NZD
Category: Fiction - Sci-Fi
The highly anticipated sequel to the beloved worldwide bestseller Ready Player One, the near-future adventure that inspired the blockbuster Steven Spielberg film.   AN UNEXPECTED QUEST. TWO WORLDS AT STAKE. ARE YOU READY?  Days after winning OASIS founder James Halliday's contest, Wade Watts makes a di scovery that changes everything. Hidden within Halliday's vaults, waiting for his heir to find, lies a technological advancement that will once again change the world and make the OASIS a thousand times more wondrous--and addictive--than even Wade dreamed possible.   With it comes a new riddle, and a new quest -- a last Easter egg from Halliday, hinting at a mysterious prize. And an unexpected, impossibly powerful, and dangerous new rival awaits, one who'll kill millions to get what he wants.   Wade's life and the future of the OASIS are again at stake, but this time the fate of humanity also hangs in the balance.  Lovingly nostalgic and wildly original as only Ernest Cline could conceive it, Ready Player Two takes us on another imaginative, fun, action-packed adventure through his beloved virtual universe, and jolts us thrillingly into the future once again.   ...Show more
$33.00
NZD
Category: Fiction - Fantasy | Series: The\Bone Season Ser.
Paige Mahoney has eluded death again. Snatched from the jaws of captivity and consigned to a safe house in the Scion Citadel of Paris, she finds herself caught between those factions that seek Scion's downfall and those who would kill to protect the Rephaim's puppet empire. The mysterious Domino Program me has plans for Paige, but she has ambitions of her own in this new citadel. With Arcturus Mesarthim her former enemy at her side, she embarks on an adventure that will lead her from the catacombs of Paris to the glittering hallways of Versailles. Her risks promise high reward- the Parisian underworld could yield the means to escalate her rebellion to outright war. As Scion widens its bounds and the free world trembles in its shadow, Paige must fight her own memories after her ordeal at the hands of Scion. Meanwhile, she strives to understand her bond with Arcturus, which grows stronger by the day. But there are those who know the revolution began with them and could end with them . . . ...Show more
$25.00
NZD
Category: Fiction - Sci-Fi
From the #1 New York Times bestselling author of the Reckoners series, Words of Radiance, the Mistborn trilogy, and the Stormlight Archive comes the sequel to Skyward. The epic adventure continues in this story of a girl with a secret in a dangerous world at war for humanity's future. All her life, Spe nsa has dreamed of becoming a pilot. Of proving she's a hero like her father. She made it to the sky, but the truths she learned about her father were crushing. The rumors of his cowardice are true--he deserted his flight during battle against the Krell. Worse, though, he turned against his team and attacked them. Spensa is sure there's more to the story. And she's sure that whatever happened to her father in his starship could happen to her. When she made it outside the protective shell of her planet, she heard the stars--and it was terrifying. Everything Spensa has been taught about her world is a lie. But Spensa also discovered a few other things about herself--and she'll travel to the end of the galaxy to save humankind if she needs to. ...Show more