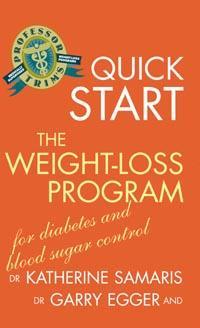 $24.95
NZD
Category: Diet and Nutrition
This new weight loss initiative from Garry Egger - the force behind the hugely successful GutBuster program - is Professor Trim's Quick Start Weight Loss Program, a medically supervised, 'slow but steady' approach to losing weight and improving the health of men, women and children everywhere. Profe ssor Trim's Quick Start Weight-Loss Program is the latest initiative from obesity and lifestyle expert Dr Garry Egger, originator of the hugely successful GutBusters men's weight-loss program. This revolutionary weight-loss program is designed to be carried out comfortably over a lifetime and aims for slow, steady and sustainable weight loss, under the medical supervision of specially trained GPs and exercise coaches. Diabetes is one of the fastest-growing health problems in Australia, yet its most common form, type 2 diabetes, can be prevented and, in some cases cured in its early stages through proper health and weight management. The Quick Start Weight-Loss Program for Diabetes and Blood Sugar Control * provides a balanced, medically supervised approach to weight loss, * involves no crash diets, tricks, fads or gimmicks, * can be tailored to your individual needs, taking into account your lifestyle, medical history and weight loss goals, and * is designed to help you manage your weight for the long term. ssor Trim team and the client's own GP ...Show more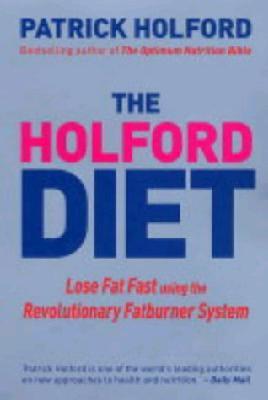 $34.99
NZD
Category: Diet and Nutrition
The Only way to lose weight and keep it off permanently, Patrick Holford's New Fatburner Diet is a diet for life...it is safe, simple to follow, you'll never go hungry, and it's full of delicious, nutritious everyday food that genuinely does you good. The New Fatburner Diet is based on the latest medica l and nutritional research, made totally accessible. Patrick Holford explains that your body is programmed to turn food into fat instead of energy - and reveals how certain foods will reprogramme your body to burn the fat away. It's that easy! In addition, your energy levels will immediately increase, and you'll feel great! Patrick Holford's New Fatburner Diet includes: Full weight-loss diet and exercise plan; Dozens of luscious recipes and snack suggestions; The latest scientific and nutritional research; Hints, tips, and motivating case studies ...Show more
$29.95
NZD
Category: Diet and Nutrition
A new diet for carbohydrate addicts offers readers help in sustaining weight loss, using an interactive format to introduce the program.

$39.95
NZD
Category: Diet and Nutrition
The Safer Way to Diet A low-carbohydrate weight loss programme, this title features a two-week rapid weight loss plan, followed by a stabilizer plan to help you maintain your weight loss. It shows how to follow this low-carbohydrate diet safely and without missing out on any essential vitamins and mi nerals. The title includes 75 recipes, each with nutritional analysis (fat: saturated and unsaturated, carbohydrates and protein per serving). ...Show more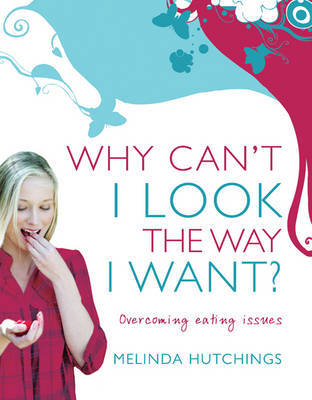 $35.00
NZD
Category: Diet and Nutrition
When you have an eating issue it can feel like the loneliest, hardest place in the world to be, but it doesn't have to be this way. No one knows this better than author Melinda Hutchings, who battled anorexia for five years. Drawing on her own experience, as well as those of other people, Melinda discus ses what this feels like on the inside, how to cope with the complexity of emotions, what to do about where you are at with your eating issue, and what you can look forward to when you get to the other side. Why Can't I Look the Way I Want? is packed full of information and personal stories which cover everything from anxieties around food to physical and emotional wellness, reconnecting with those you care about, and healing yourself and moving forward. It profiles those who have battled anorexia, bulimia and exercise bulimia, as well as the increasing male eating disorder, bigorexia, and provides strategies to triumph over these illnesses. ...Show more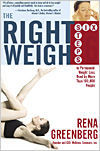 $39.99
NZD
Category: Diet and Nutrition
The Right Weigh is a unique 40-day, six-step plan for weight control that combines both a practical and spiritual approach. Rena Greenberg addresses the importance of effecting changes in your diet and activity level - and makes it easy for you to do so- but she emphasizes what most diet books overlook: how to do the inner work necessary to change the very way you think about food. Using self-hypnosis, neuro-linguistic programming, and a technique called ...Show more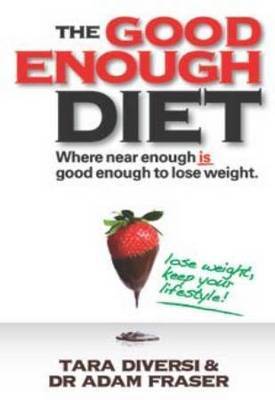 $39.99
NZD
Category: Diet and Nutrition
Too busy for endless calorie counting, sessions with personal trainers and specialised diets that require hours of preparation? So stop punishing yourself for not being perfect all the time and learn the real secret to weight loss success, near enough really can be good enough.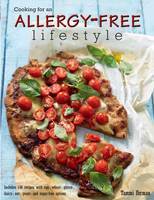 $39.99
NZD
Category: Diet and Nutrition
Artist and cook Tammi Forman is sensitive to wheat and sugar. Her three sons are all allergic too – Joey and Lennie to wheat and dairy (Lennie is also allergic to certain fruits, as well as potatoes, tomatoes, peppers and aubergines); and Sam to eggs, dairy, nuts and peanuts – and live with the constant threat of anaphylactic shock hanging over their heads. This is a recipe book with a difference. It is written by a person with allergies, for people with allergies, but the recipes are just as delicious as any that are laden with dairy, wheat or egg. In Cooking for an allergy-free lifestyle, Tammi Forman shares her family secrets and recipes, because she knows how hard it is to cater for a family with allergies. This title provides clarity in the 'how to' of living a balanced and affordable allergy-free lifestyle. By returning to the basics, and simplifying our choices, Tammi believes that we can eat delicious food that maintains our good health ...and not go broke or crazy in the process! Cooking for an Allergy-free lifestyle features 146 delicious recipes ranging from breakfasts, breads, salads and dressings, to soups, main meals, cakes and bakes. There are even recipes for play dough, bath salts and furniture polish. The recipes, which include egg-, wheat-, gluten-, dairy-, nut-, yeast- and sugar-free options, are each coded (e.g. DF for dairy free) for quick reference so that, at a glance, readers will be able to see if the dish caters for their particular allergy. Cooking for an Allergy-free Lifestyle is a highly practical book, with an emphasis on convenience and delicious dishes. ...Show more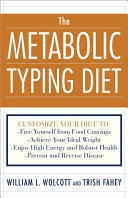 $39.99
NZD
Category: Diet and Nutrition
Here is nutrition's best-kept secret: What works for one person may have no effect on another person, and may make a third person worse. That's why diet books, in general, sell so well - any particular "diet" will work for some, but it will leave others disappointed and looking for the next "miracle die t" to come along. Each individual is genetically unique in the way he or she utilises nutrients on a metabolic level, and THE METABOLIC TYPING DIET is the first and only book to offer men and women a revolutionary, scientifically proven system for discovering their metabolic type and determining their own nutritional needs. Some people thrive on high-protein diets that include meat and dairy products, others are built for high-carbohydrate diets based mainly on vegetables and grains.By taking the self test that William Wolcott has developed and tested over the course of many years, the reader will learn how his or her own internal "engine of metabolism" converts foods and nutrients into "body fuel". And by following the proper diet, he or she will not only achieve an ideal weight, but will also be healthier, more energetic, and mentally alert. THE METABOLIC TYPING DIET provides comprehensive food lists and other dietary instructions, including the proper ratios of protein, carbohydrates, and fat for each metabolic type. Based on a proprietary system available to no one but William Wolcott, this is indeed the very last diet anyone will ever needs. ...Show more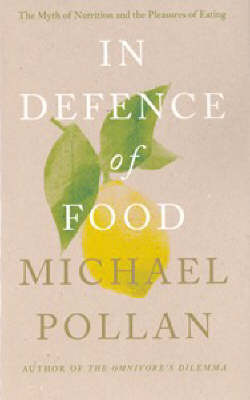 $39.99
NZD
Category: Diet and Nutrition
<b><i>'Eat food. Not too much. Mostly plants.'</i> These simple words go to the heart of Michael Pollan's <i>In Defence of Food</i>.</b><br><br>Humans used to know how to eat well, Pollan argues. But the balanced dietary lessons that were once passed down through generations have been confused, complicated, and distorted by food industry marketers, nutritional scientists, and journalists � all of whom have much to gain from our dietary confusion. As a result we face today a complex culinary landscape dense with bad advice and foods that are not 'real'. These 'edible food-like substances' are often packaged with labels bearing health claims that are typically false and misleading. Indeed, real food is fast disappearing from the marketplace, to be replaced by 'nutrients', and plain old eating has been replaced by an obsession with nutrition that is, paradoxically, ruining our health, not to mention our meals. It seems that we have forgotten about the sheer peasure that can come from eating simple, healthy and, most importantly, real food. Michael Pollan's last book, <i>The Omnivore's Dilemma</i>, is currently an extraordinary American bestseller, which for hundreds of thousands of people has shown just how badly wrong the food industry has gone. <i>In Defence of Food</i> is his practical call to action - a bracing and eloquent manifesto that will enrich our lives and our palates, and enlarge our sense of what it means to be healthy and happy. First published January 2008. ...Show more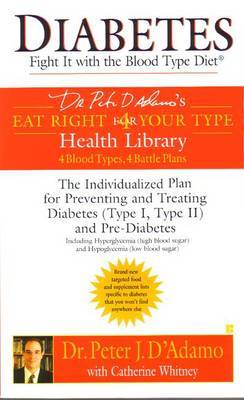 $19.95
NZD
Category: Diet and Nutrition
Featuring brand-new targeted food and supplement lists specific to diabetes that readers won't find anywhere else. The Individualized Plan for Preventing and Treating Diabetes (Type I, Type II) and Pre-Diabetes - including Hyperglycemia (high blood sugar) and Hypoglycemia (low blood sugar) America 's fastest-growing health problem just got dealt a major blow. Dr. Peter J. D'Adamo, the creator of the Blood Type Diet(r), which has forever changed the way people approach health and weight loss, now brings readers a targeted plan for fighting diabetes. This volume of Dr. D'Adamo's Health Library has specific tools not available in any other book, for preventing, treating, and reversing some of the many complications of diabetes. ...Show more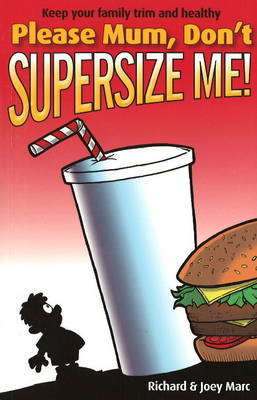 $35.00
NZD
Category: Diet and Nutrition
This is an essential guide to a healthier, happier child. It is packed with clear, straightforward information about healthy living for all the family: the truth about 'puppy fat'; how to find out if your child really is overweight; how families can lose weight the safe way; establishing healthy eating and exercise habits for life; how to motivate and encourage your children; setting achievable goals; and, teaching your kids to enjoy eating healthy foods and being active. Healthy children are happier children. As a parent, once you understand the fundamentals of good nutrition and physical exercise, you will be able to guide your child to a healthy, happier life. Don't fall into the trap - don't supersize your child. ...Show more