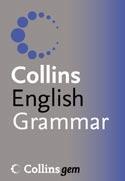 $8.95
NZD
Category: Dictionaries
Collins Gem English Grammar provides up-to-date and accessible guidance through the intricacies of English grammar in a format that is conveniently sized, durable, and simple to use. The book is divided into sections dealing with the different parts of speech. Each grammatical point is clearly describe d in a user-friendly format that combines explanations on the left-hand page with examples from modern English on the right-hand page. ...Show more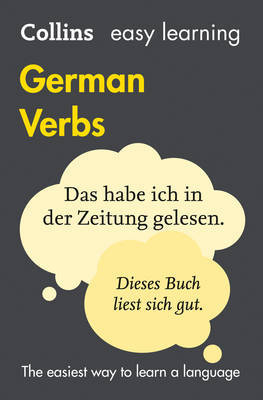 $22.00
NZD
Category: Dictionaries | Series: Collins Easy Learning German
Designed to accompany and complement the dictionary and grammar in the widely acclaimed Collins Easy Learning range, Collins Easy Learning German Verbs, with the latest German spellings included throughout and now including a free verb wheel, offers beginners a clear and easy-to-understand guide to Germ an verbs. The main section of the book consists of 200 fully conjugated verbs, regular and irregular, weak and strong. Each is self-contained in a full-page spread showing all the major tenses, clearly set out with pronouns. The tables also tell you if the verb is weak or strong and if it takes the auxiliary "haben" or "sein". New German spellings are included throughout. There is a special section on modal and auxiliary verbs, as well as an extensive introduction on the formation and use of tenses in German. A full alphabetical index of all the most widely used German verbs, cross-refers the user to its basic model in the verb tables. * Have confidence: Collins Easy Learning German Verbs shows all the major tenses of the most important verbs in German in full. * Get it right: Hundreds of examples of real German show exactly how each verb is actually used. * Get there fast: Clear, colour layout ensures that you find the information you need quickly and easily. * FREE verb wheel - new with this edition, the handy verb wheel covers the most common tenses for 28 essential German verbs and is the perfect tool for checking verb patterns wherever you are. Other titles available in the Collins Easy Learning German range are: Collins Easy Learning German Dictionary, Collins Easy Learning German Grammar and Collins Easy Learning German Words. ...Show more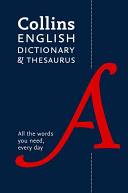 $25.00
NZD
Category: Dictionaries
All the words you need, every day: the perfect reference book to broaden your knowledge of English, and is ideal for everyday use, at home, in the office or at school. Drawn from Collins' 4.5-billion-word database of today's English, Collins English Dictionary and Thesaurus combines a comprehensive dict ionary with all the alternatives and opposites the user needs. The book is designed for ease of use, with thumb tabs on every page and all entry words highlighted in bold. This layout means that you can be sure to find all the information you need in the quickest time possible. ...Show more
$27.00
NZD
Category: Dictionaries | Reading Level: Teen - Grade 10-12, Age 15-18
Two books in one with all the words you need at your fingertips. With matching dictionary and thesaurus entries on the same page, you'll never be stuck for words again! This Dictionary and Thesaurus is easy on the eye and will help you find all the words, definitions and alternatives you need - and fas t. Clear, straightforward definitions reflect today's language, while the matching thesaurus entries provide a generous choice of synonyms and antonyms. And you can always rely on Collins to provide you with today's English as all our words, definitions, examples, idioms and usage notes are based on our unrivalled language monitoring programme. ...Show more
$32.99
NZD
Category: Dictionaries | Series: Australian Dictionaries/Thesauruses/Reference Ser.
The third edition of the Oxford Study Dictionary and Thesaurus combines two books in one, a dictionary at the front and a thesaurus at the back. The dictionary section introduces students to the style in which most adult dictionaries are written, while the thesaurus is an ideal reference for students to improve their writing and communication skills. ...Show more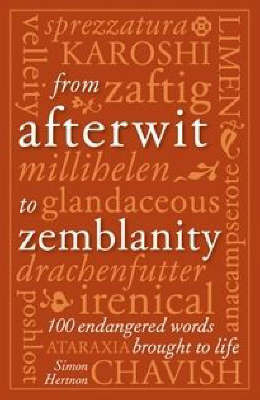 $28.00
NZD
Category: Dictionaries
Though our 'information age' is drowning us in words - most notably through the rapid rise in popularity of the blog - our collective vocabulary seems to be growing ever more impoverished. So here is a collection of rare and neglected words that, if reintroduced, will help breathe much-needed life, savo ur and vitality back into the English language and will delight anyone keen to enrich their verbal repertoire. Each of these 100 hand-picked words comes with a precise definition, a quotation from literature, a personal note from the author validating its inclusion in the book, and, as a light-hearted finale, an example of its use in a witty piece of serialised fiction. And these words are not just fun, they're useful! Zaftig, for example, allows you to say 'pleasingly plump' without giving mortal offence. And what about millihelen, a unit equal to 'enough beauty to launch a single ship'? ...Show more
$49.99
NZD
Category: Dictionaries | Series: UK Bestselling Dictionaries Ser.
The Compact Oxford Dictionary & Thesaurus is the ultimate one-stop reference, containing both a dictionary and a thesaurus in one handy reference volume. The dictionary and thesaurus texts have an integrated design which has been tried and tested with users to speed up browsing and look-up. The dict ionary has excellent coverage of everyday English, containing over 90,000 words, phrases and definitions and incorporating the newest words and phrases from Oxford's language research programs. The thesaurus provides over 100,000 synonyms and antonyms. This dictionary and thesaurus is ideal for anyone who needs an all-in-one reference work. ...Show more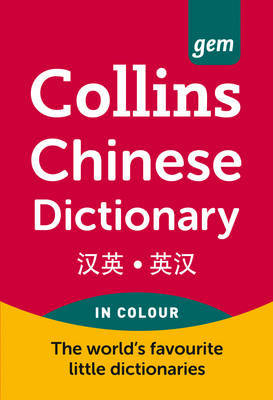 $16.00
NZD
Category: Dictionaries | Series: Collins GEM
This new edition has been specially designed to meet the needs of learners of both Chinese and English. A clear colour layout, up-to-date coverage of everyday words and phrases, and a handy travel supplement make this dictionary the ideal portable companion for travel and study. Written for all those le arning Chinese or English for study or for travel. It is the ideal text for anyone who needs a wealth of reliable information in a portable format. * Contains all the everyday words and phrases used in today's Chinese and English that you will need to know, with a practical supplement for travellers. * Offers extra help with essential vocabulary, and thousands of useful phrases to guide you to the correct translation. * Help with the pronunciation of Chinese words, the dictionary includes pinyin for all Chinese headwords, translations, phrases and examples. Pinyin is the official phonetic system for transcribing Chinese characters into the Roman alphabet, and is accepted in all Chinese-speaking countries. * In addition, the dictionary also includes both simplified and traditional or complex Chinese characters. Simplified characters are generally used in mainland China and Singapore, while traditional characters are mainly used in Taiwan, Hong Kong and Macau. * The radical index is a clear guide to looking up Chinese characters, helping the user to navigate the dictionary and find Chinese characters without knowing their pronunciation. Other titles available in the Collins Chinese range are the Collins Essential Chinese Dictionary, the Collins Pocket Chinese Dictionary, the Collins Easy Learning Mandarin Chinese Dictionary and the Collins Chinese Dictionary. ...Show more
$69.99
NZD
Category: Dictionaries
Why literally shouldn't be taken literally. Why Americans think home in on something is a mistake and Brits think hone in is. Is it OK to spell OK okay? What's wrong with hence why? Was Alanis Morrisette ever ironic? Fowler's Dictionary of Modern English Usage is the world-famous guide to English usage, loved and used by writers, editors, and anyone who values correct English since it first appeared in 1926. Fowler's gives comprehensive and practical advice on complex points of grammar, syntax, punctuation, style, and word choice. Now enlarged and completely revised to reflect English usage in the 21st century, it provides a crystal-clear, authoritative picture of the English we use, while illuminating scores of usage questions old and new. International in scope, it gives in-depth coverage of both British and American English usage issues, with reference also to the English of Australia, Canada, India, New Zealand, and South Africa. The thousands of authentic examples in the book vividly demonstrate how modern writers tackls debated usage issues. They come on the one hand from established literary figures such as Chinua Achebe, Peter Ackroyd, Raymond Carver, Iris Murdoch, Harold Pinter, and Vikram Seth. On the other, they are drawn from a vast range of newspapers, journals, books, broadcast material, websites, and other digital sources from across the globe, and include references to topical personalities such as Stephen Fry, Prince Harry, Jeremy Paxman, and Wayne Rooney. Based on the evidence and research of the Oxford Dictionaries Programme, this is the most comprehensive and authoritative guide to usage available. ...Show more