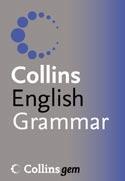 $8.95
NZD
Category: Dictionaries
Collins Gem English Grammar provides up-to-date and accessible guidance through the intricacies of English grammar in a format that is conveniently sized, durable, and simple to use. The book is divided into sections dealing with the different parts of speech. Each grammatical point is clearly describe d in a user-friendly format that combines explanations on the left-hand page with examples from modern English on the right-hand page. ...Show more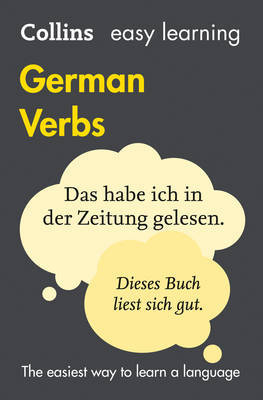 $22.00
NZD
Category: Dictionaries | Series: Collins Easy Learning German
Designed to accompany and complement the dictionary and grammar in the widely acclaimed Collins Easy Learning range, Collins Easy Learning German Verbs, with the latest German spellings included throughout and now including a free verb wheel, offers beginners a clear and easy-to-understand guide to Germ an verbs. The main section of the book consists of 200 fully conjugated verbs, regular and irregular, weak and strong. Each is self-contained in a full-page spread showing all the major tenses, clearly set out with pronouns. The tables also tell you if the verb is weak or strong and if it takes the auxiliary "haben" or "sein". New German spellings are included throughout. There is a special section on modal and auxiliary verbs, as well as an extensive introduction on the formation and use of tenses in German. A full alphabetical index of all the most widely used German verbs, cross-refers the user to its basic model in the verb tables. * Have confidence: Collins Easy Learning German Verbs shows all the major tenses of the most important verbs in German in full. * Get it right: Hundreds of examples of real German show exactly how each verb is actually used. * Get there fast: Clear, colour layout ensures that you find the information you need quickly and easily. * FREE verb wheel - new with this edition, the handy verb wheel covers the most common tenses for 28 essential German verbs and is the perfect tool for checking verb patterns wherever you are. Other titles available in the Collins Easy Learning German range are: Collins Easy Learning German Dictionary, Collins Easy Learning German Grammar and Collins Easy Learning German Words. ...Show more
$32.99
NZD
Category: Dictionaries | Series: Australian Dictionaries/Thesauruses/Reference Ser.
The third edition of the Oxford Study Dictionary and Thesaurus combines two books in one, a dictionary at the front and a thesaurus at the back. The dictionary section introduces students to the style in which most adult dictionaries are written, while the thesaurus is an ideal reference for students to improve their writing and communication skills. ...Show more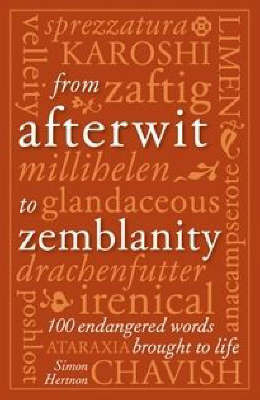 $28.00
NZD
Category: Dictionaries
Though our 'information age' is drowning us in words - most notably through the rapid rise in popularity of the blog - our collective vocabulary seems to be growing ever more impoverished. So here is a collection of rare and neglected words that, if reintroduced, will help breathe much-needed life, savo ur and vitality back into the English language and will delight anyone keen to enrich their verbal repertoire. Each of these 100 hand-picked words comes with a precise definition, a quotation from literature, a personal note from the author validating its inclusion in the book, and, as a light-hearted finale, an example of its use in a witty piece of serialised fiction. And these words are not just fun, they're useful! Zaftig, for example, allows you to say 'pleasingly plump' without giving mortal offence. And what about millihelen, a unit equal to 'enough beauty to launch a single ship'? ...Show more
$27.00
NZD
Category: Dictionaries | Series: Collins Pocket | Reading Level: Teen - Grade 10-12, Age 15-18
Two books in one with all the words you need at your fingertips. With matching dictionary and thesaurus entries on the same page, you'll never be stuck for words again! This Dictionary and Thesaurus is easy on the eye and will help you find all the words, definitions and alternatives you need - and fas t. Clear, straightforward definitions reflect today's language, while the matching thesaurus entries provide a generous choice of synonyms and antonyms. And you can always rely on Collins to provide you with today's English as all our words, definitions, examples, idioms and usage notes are based on our unrivalled language monitoring programme. ...Show more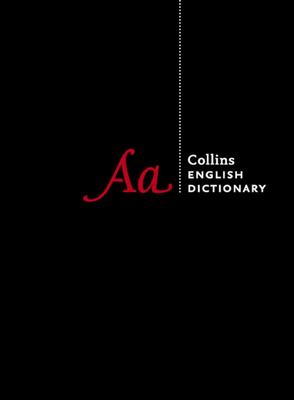 $110.00
NZD
Category: Dictionaries
The largest single-volume dictionary in print celebrates the extraordinary breadth and changing nature of world English, with more than 100,000 entries and definitions added, and a total of 722,000 words, meanings, and phrases The dictionary is drawn from the Collins Corpus, the largest word-gathering d atabase in the world with more than 4.5 billion words, and combined with a selection of emerging words submitted by the public via the award-winning collinsdictionary.com. The Collins English Dictionary is a democratic snapshot of real English as it is spoken today around the world. All will be drawn in by evolving definitions and new, rare, and quirky words. Explore the ever-changing landscape of the English language with award-winning author Mark Forsyth's insights, in which he casts an analytical eye over the latest fields and shifts in meaning that the dictionary reflects. In an innovation that will delight word gamers and crossword solvers, the Collins English Dictionary also now uniquely includes words previously only found in the official Scrabble(TM) word list. Always at the cutting edge of language change, Collins offers you the very best of new and emerging words, (as well as those that haven't quite made it yet, the ones we all love--and those we love to hate). Word enthusiast Lucy Mangan shares her passion and pique as she delves into these murky waters, taking you on a journey into the peculiarities of the new words' creation process. The Times said that "the Collins English Dictionary is a book to be treasured, no home should be without one." This 12th edition is beautifully designed and printed, and despite the increase in words, it is now lighter and easier to hold. ...Show more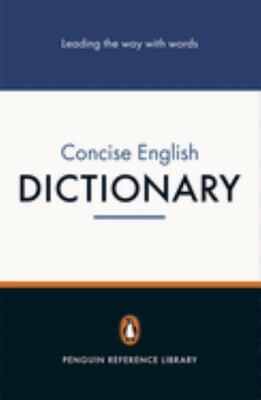 $29.95
NZD
Category: Dictionaries | Series: Penguin Reference Bks.
Compiled by leading British lexicographers, this dictionary should prove useful at home and in the office. It offers comprehensive coverage of the English language and contains a variety of features, including usage notes and essays on the history of words such as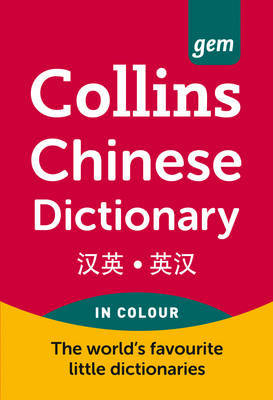 $16.00
NZD
Category: Dictionaries | Series: Collins GEM
This new edition has been specially designed to meet the needs of learners of both Chinese and English. A clear colour layout, up-to-date coverage of everyday words and phrases, and a handy travel supplement make this dictionary the ideal portable companion for travel and study. Written for all those le arning Chinese or English for study or for travel. It is the ideal text for anyone who needs a wealth of reliable information in a portable format. * Contains all the everyday words and phrases used in today's Chinese and English that you will need to know, with a practical supplement for travellers. * Offers extra help with essential vocabulary, and thousands of useful phrases to guide you to the correct translation. * Help with the pronunciation of Chinese words, the dictionary includes pinyin for all Chinese headwords, translations, phrases and examples. Pinyin is the official phonetic system for transcribing Chinese characters into the Roman alphabet, and is accepted in all Chinese-speaking countries. * In addition, the dictionary also includes both simplified and traditional or complex Chinese characters. Simplified characters are generally used in mainland China and Singapore, while traditional characters are mainly used in Taiwan, Hong Kong and Macau. * The radical index is a clear guide to looking up Chinese characters, helping the user to navigate the dictionary and find Chinese characters without knowing their pronunciation. Other titles available in the Collins Chinese range are the Collins Essential Chinese Dictionary, the Collins Pocket Chinese Dictionary, the Collins Easy Learning Mandarin Chinese Dictionary and the Collins Chinese Dictionary. ...Show more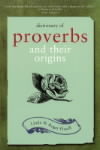 $35.00
NZD
Category: Dictionaries
In Dictionary of Proverbs Linda and Roger Flavell trace the origins and histories of over 400 proverbs, detailing the changes of meaning and usage that have occurred throughout each proverb's life and offering literary examples dating back over 2000 years. Entries have been selected because they have a tale to tell and because they are pithily, even wittily phrased, offering, as Cervantes put it, 'short sentences drawn from long experience'. ...Show more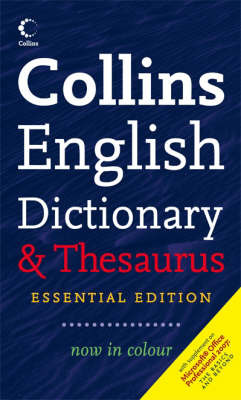 $39.99
NZD
Category: Dictionaries
Ideal for the home or office, Collins Essential Dictionary and Thesaurus gives three books in one. The dictionary text is comprehensive and the matching thesaurus entries on the same page offer a generous choice of alternatives and opposites. In addition to this is a supplement developed with Microsof t®, with all you need to know to master Microsoft Word, Excel, Powerpoint and Outlook. Users can: Look up matching dictionary and thesaurus entries on the same page Avoid common mistakes in English with the helpful usage notes Master key Microsoft® programs with the useful supplement ...Show more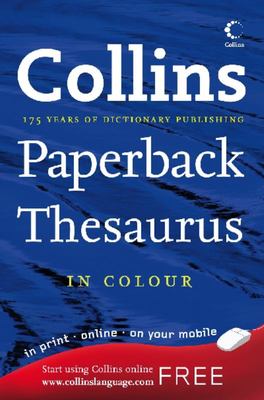 $28.00
NZD
Category: Dictionaries
Collins Paperback Thesaurus, in colour, is the perfect reference for everyday use. With practical usage notes, and a fantastic supplement, this is the ideal thesaurus to take your language use and knowledge further. Specially tailored to meet the needs of the user at home, school, or in the office, this new edition of Collins Paperback Thesaurus has all the words and alternatives the user might need, as well as a huge choice of opposites. This thesaurus is based on the Collins Word Web, Collins' 2.5-billion-word database of today's English. With colour entry words, the clear, accessible layout ensures users can find the language they need when they need it. Includes a Word Study supplement which offers useful alternatives to a wide range of commonly-used words. ...Show more
$54.95
NZD
Category: Dictionaries
A revised edition of the dictionary for learners of English. Updated to include many terms connected with the Internet and electronic communication, over 4500 words and meanings are new to this edition. The dictionary covers British and American English, and colloquial as well as formal English.