$49.95
NZD
Category: Dictionaries
Revised and updated for its second edition with new definitions and the latest buzzwords, The Penguin English Dictionary is the most accessible single-volume dictionary available. The Penguin English Dictionary offers a complete guide to the English language. As well as clear, detailed definitions, ther e are usage notes on difficult aspects of grammar and words that are often confused; there are short encyclopedia entries on concepts such as freedom, consciousness and structualism written by leading commentators in their fields (Helena Kennedy, Vernon Bogdanor, Richard Dawkins and Geoffrey Robertson for example) and there are fascinating word histories and a vast array of quotations to support and exemplify usage. ...Show more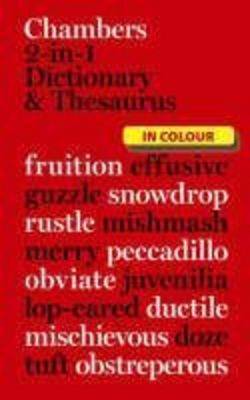 $65.00
NZD
Category: Dictionaries
Chambers 2-in-1 Dictionary & Thesaurus takes away the need to juggle with two separate volumes by offering you two books in one: an up-to-date dictionary text together with a complete and user-friendly thesaurus. No need to look up the same word twice as dictionary and thesaurus entries are given to gether, while the clear colour layout makes reference quick and easy. Entries are complemented by over 200 lists showing related words, from types of accommodation to signs of the zodiac.Perfect for use at home, in the office or while studying, Chambers 2-in-1 Dictionary & Thesaurus is the ideal single-volume reference tool for anyone wanting to use English accurately and creatively. ...Show more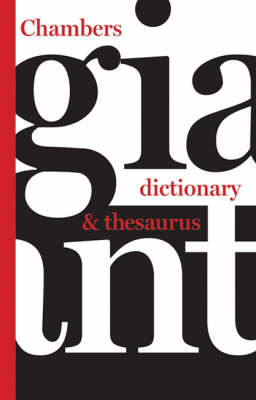 $39.99
NZD
Category: Dictionaries
Chambers Giant Dictionary & Thesaurus offers two books in one: an up-to-date and easy-to-use dictionary with many entries supplemented by thesaurus text. The two texts are completely harmonized, making this a great one-stop resource for reference and creative writing.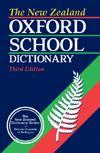 $24.95
NZD
$27.00
(7% off)
Category: Dictionaries
New Zealand's best selling school dictionary has been thoroughly revised and up-dated, and now includes a special study pages centre section. Contains • over 35,000 headwords • 'study pages' centre-section includes guidance on spelling, prefi xes and suffixes, letter-writing, a map of new Zealand and neighbouring countries, a map of the world, and many other useful items • includes borrowings from te reo Maori • word origins provided when they will shed light on the word's meaning, show how the meaning has changed, or help with recognition of word elements • in-text notes provide assistance with grammar, usage, and words that are easily confused • pronunciation given for words which may cause problems, using a simple respelling system which avoids symbols ...Show more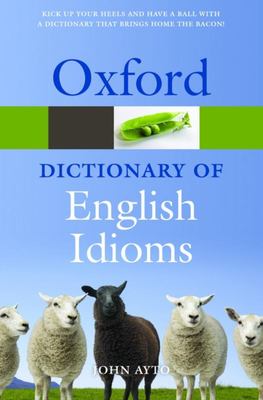 $39.99
NZD
Category: Dictionaries | Series: Oxford Paperback Reference
Did you know that 'flavour of the month' originated in a marketing campaign in American ice-cream parlours in the 1940s, when a particular flavour would be specially promoted for a month at a time? And did you know that 'off the cuff' refers to the rather messy practice of writing impromptu notes on one 's shirt cuff before speaking in public? These and many more idioms are explained and put into context in this third edition of the Oxford Dictionary of English Idioms. The volume takes a fresh look at the idiomatic phrases and sayings that make English the rich and intriguing language that it is. This major new edition contains entries for over 6,000 idioms, including 700 entirely new entries, based on Oxford's language monitoring and the ongoing third edition of the Oxford English Dictionary. These include a range of recently established idioms such as 'the elephant in the corner', 'go figure', 'like a rat up a drainpipe', 'sex on legs', 'step up to the plate', 'too posh to push', 'a walk in the park', 'win ugly'. This edition also features a greatly increased number of cross-references, making it ideal for quick reference. Many entries include additional features which give more detailed background on the idiom in question. For example, did you know that 'taken aback' was adopted from nautical terminology that described a ship unable to move forward because of a strong headwind pressing its sails back against the mast? Anyone interested in the colourful side of the English language will get hours of fun browsing from this fascinating and informative volume. ...Show more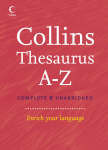 $0.00
NZD
Category: Dictionaries
Now with headwords in colour, this new edition of Collins Thesaurus A-Z, Complete and Unabridged is the must-have reference book for all language lovers. Not only does it provide a generous choice of synonyms and antonyms, it also offers many other useful features to make it an invaluable reference sour ce for any home. As part of the Collins word lovers range, new colour Collins Thesaurus A-Z, Complete and Unabridged is ideal for everyone searching for that elusive word. As well as having the most up-to-date words and a vast number of synonyms and antonyms, this thesaurus also provides illustrative examples from real English. Related words, fixed phrases, and cross-references are also included to help expand your vocabulary. Handy word power notes give advice on good English and subject word lists ensure you access the information you want in the quickest time possible. The features include: have confidence - unrivalled coverage of the most up-to-date words with all the latest alternatives get it right - illustrated examples from real English demonstrate usage get there fast - clear colour layout for easy accessibility and go further - quotations and lists for crossword solving and word games. Words are tools for life. And a Collins Dictionary makes them work for you. ...Show more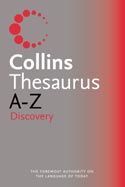 $24.95
NZD
Category: Dictionaries
With all the words and alternatives you need, as well as a huge choice of opposites, this is the ideal reference for home, school and the office.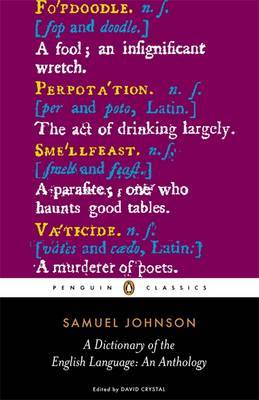 $39.99
NZD
Category: Dictionaries
"Samuel Johnson's Dictionary", published in 1755, marked a milestone in a language in desperate need of standards. No English dictionary before it had devoted so much space to everyday words, been so thorough in its definitions, or illustrated usage by quoting from Shakespeare and other great writers. J ohnson's was the dictionary used by Jane Austen and Charles Dickens, Wordsworth and Coleridge, the Brontes and the Brownings, Thomas Hardy and Oscar Wilde. This new edition, edited by David Crystal, will contain a selection from the original, offering memorable passages on subjects ranging from books and critics to dreams and ethics. ...Show more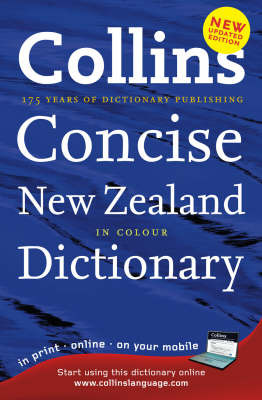 $69.99
NZD
Category: Dictionaries
Pioneers in dictionary publishing for over 175 years, Collins are now proud to offer the Concise New Zealand Dictionary in print and online. The seventh edition of the groundbreaking Collins Concise Dictionary is the only dictionary in concise format with encyclopedic entries for people, places, and reg ions. Ideal for families and students, this is essential for anyone who needs a dictionary that supports research in all areas (academic subjects as well as hobbies, sport and recreation) and study. Have confidence - comprehensive and authoritative, with all the words and definitions you need Get it right - language notes help you choose the right words for every situation and give advice on words that are changing in meaning or use. Get there fast - clear layout with colour. Find out more - thousands of entries for people and places. This 7th edition first published November 2008 ...Show more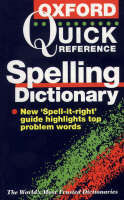 $17.00
NZD
Category: Dictionaries
Based on the text of the Oxford Minidictionary of Spelling, and featuring a brand new spell-it-right guide, this dictionary provides even more guidance on correct usage of the English language. With detailed information on American English spelling, hyphenation points, geographical names, etc., it is th e essential reference book for anybody wanting quick and straightforward answers to their spelling queries. ...Show more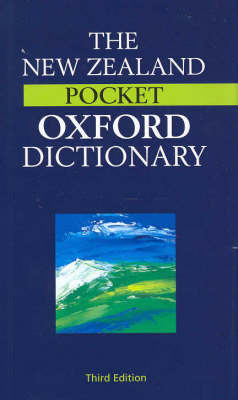 $39.99
NZD
Category: Dictionaries
This extensive and versatile dictionary provides unrivalled coverage of New Zealand and international English in pocket format. This brand new edition contains more than 60,000 dictionary headwords, including more than 3,000 New Zealand English words, which encompass further Maori loanwords, acronyms a nd initialisms, proper nouns, collo-quialisms, compounds, and miscellaneous formations. New features include updated appendices, featuring the English and Maori versions of the Treaty of Waitangi, and of 'God Defend New Zealand'. ...Show more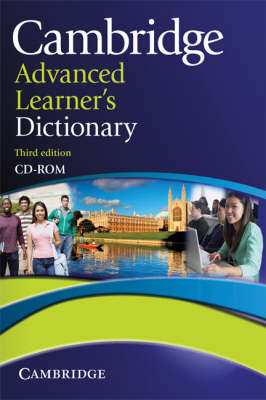 $69.99
NZD
Category: Dictionaries
A new edition of the Cambridge Advanced Learner's Dictionary, which is now more user-friendly than ever. The CD-ROM includes the whole paper dictionary in handy searchable format and the fresh new design makes it even easier to use. * Recordings of every word in British and American English - listen, re cord and play back to practise your own pronunciation. * Interactive exercises including exam practice and real past papers for IELTS, FCE, CAE, CPE and BEC. * Extra collocation information and thousands of example sentences. * UNIQUE! Cambridge SMART thesaurus turns the dictionary into a thesaurus at the click of a button. * QUICKfind, a mini pop-up version of the dictionary, giving you instant definitions when working on-screen. ...Show more