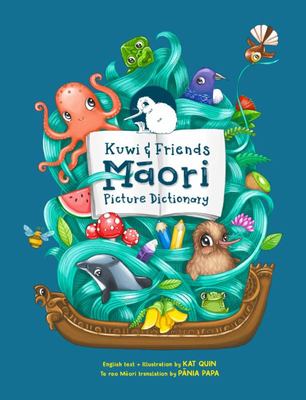 $35.00
NZD
Category: Children - Reference
Beginners Māori Language Picture Dictionary, for the Whole Family. From the #1 bestselling and award-winning author and illustrator of the Kuwi the Kiwi series, Kat Quin, comes a large scale, stunningly illustrated visual dictionary. Full of over 1000 basic words in te reo Māori and English, perfect for every New Zealander.  A fun, easy-to-use resource for those wanting to discover, learn and use everyday words in te reo Maori. The illustrations are designed to help with comprehension, particularly for younger learners. Visual cues can assist with retention of language, to recall spoken and written words.  68 fully illustrated pages, in a large format (265 x 366mm), in vibrant full colour, with over 1000 te reo Maori words, translated into English. Embedded with gorgeous Kuwi the kiwi (and friends) illustrations.  Designed for everyday use, in the whanau (family), kura (school) and for all New Zealanders. Ages 0-100+. A portion of each sale goes to charity Kiwis for Kiwi. ...Show more

$26.00
NZD
Category: Children - Te Reo
A te reo Māori edition of the top-selling The Noisy Book. Ka aauuuuu te wūruhi [The wolf goes aaooooo] Ka ū ū ū te makimaki [The monkey goes oo oo oo] Ka kū kū te kererū [The pigeon goes coo coo] Ka kihi kihi a Māmā [Mama goes kiss kiss] With over 100 pages, this unique boardbook is full of bright, b old illustrations and lots of noises to make - it's perfect to share with a baby or toddler. ...Show more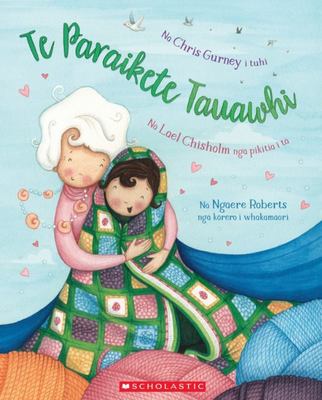 $19.00
NZD
Category: Children - Te Reo
It smells like sunshine. It sounds like whispers. It looks like rainbows...It feels like love. Nana made hug blankets for all her family. Each one was special. We love our Nana. "A joyful story of whānau, love and loss, but above all else, love"
Mihi
by Gavin Bishop
$18.00
NZD
Category: Children - Te Reo
Board book. This beautiful baby book introduces ideas of me and my place in the world in the shape of a simple mihi or pepeha. Mihi / mihimihi / pepeha: introducing yourself and making connections to other people and places. Mihi is a simple book to share with babies and talk about their whānau and pl ace in the world. Repeating colours and shapes show the connections between waka, mountain, iwi through to mama, papa and the baby reader. This book is an introduction for children of any age to their own pepeha—and to the idea of a pepeha. ...Show more
$20.00
NZD
Category: Children - Te Reo
Help your tamariki to korero Māori with this brilliant first words book by Stacey Morrison, gorgeously illustrated by Ali Teo and John O'Reilly. My First Words in Māori equips your whanau with the first words you need to speak te reo at home together. With lively pictures labelled in Māori and English, each page introduces the concepts and words children use as they first begin to talk, get to know people and explore the world around them. Designed by Māori language champion and broadcaster Stacey Morrison for parents and tamariki to read together, with plenty of details in the illustrations to point out and name, scenes include: Taku Tinana/My Body, Taku Whanau/My Family, Taku Whare/My House, Wahi Takaro/At the Park, Tatahi/At the Beach, Te Marae/The Marae – and much more! This is the perfect book to bring the Māori language into your home and have fun with the kids on their language journey. ...Show more
$20.00
NZD
Category: Children - Te Reo
Ahea RAWA pao ai te hua? This Maori-language story is for all children eagerly awaiting a new sibling. 'Kia oho a Pipi, ka pekepeke ia?' 'E kao, Kiwi Iti, taria te wa.' He korero ataahua mo te tatari kia puta, kia tupu te pepi hou. Ma nga tama me nga kotiro nohinohi e tatari ana kia tae mai to muri i ho. Also available in English, titled Kiwi Baby. ...Show more

$21.00
NZD
Category: Children - Te Reo
To celebrate the 10th Anniversary of Robyn Belton's heart-warming, beautifully illustrated story, this truelife adventure, has now been translated into Te Reo Māori. Hapata te kuri maia o te moana is the true story about a small dog who lived by the sea. Everybody loved him, but the person who loved him most was Tim. One fine day, an excited Hapata set off on a boat with Tim¿s father, heading for the Marlborough Sounds. What no one knew, however, was that the weather would soon turn rough and Hapata would be thrown into the biggest adventure of his life. Having sold over 40,000 since release, this title is sure to continue to delight children, their parents, teachers and librarians for many more years to come. ...Show more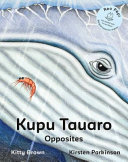 $18.00
NZD
Category: Children - Te Reo | Series: Reo Pepi
Beautiful bilingual board book introducing the concept of opposites in both Te Reo Maori and English.
$19.00
NZD
Category: Children - Te Reo
Behind dusty orange hills, where the sky stretches down to the sea, there is a magical, wild, windy place called Te Mata Hapuku. Sam and Te Rerehua love to visit their Grandma and Poua at Te Mata Hapuku (aka Birdlings Flat). They like to collect agate from the stones, with a backdrop of whipping wind, f lashing torchlight, and the splash of Poua's gaff in the water. But one night, Grandma notices something mysterious. Someone has stolen some stars from the sky. And then the patupaiarehe come out to play on the beach... Can Sam and Te Rerehua rescue the Matariki stars? A portion of the proceeds from the sale of this book are donated to the restoration of the lake, Te Roto o Wairewa. ...Show more
$17.00
NZD
Category: Children - Pre-School | Series: My First Board Book
Learn and practice in both English and te reo Maori with this vibrant board book from award-winning illustrator Donovan Bixley.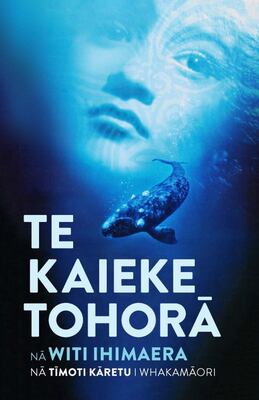 $26.00
NZD
Category: Children - Te Reo
Whakamiharo ana tera te tirohanga atu ki a ia, ki te kaieke tohora. I rere atu te wai i a ia, ka hamama tona waha kia taea ai te hau makariri te kupa iho. Ko ana karu e kohara ana i te ahurei. Korekoreko katoa ana te tinana i te rehu taimana. I runga i taua taniwha ano nei he tekoteko paku kua whakairot ia, e tino haura ana, e koratarata ana, e tu torotika ana. Ano nei na tona tino kaha, e to ake ana ia i te tohora ki te rangi . . . Ko Kahutia-te-rangi te kaieke tohora, te tipuna o nga iwi o Te Tai Rawhiti. I haere mai ia i Hawaiki, te kainga o nga Tawhito, ki te tai rawhiti o Aotearoa. No muri mai ko Kahu, te matamua o nga mokopuna tuarua a te whanau. I arohaina ia e ona whanaunga katoa engari ko tera i tino pirangi ia kia aroha atu, kaore i aroha atu - ara, ko tona tipuna tane tuarua.Kua rongo au i a Kui Putiputi e tiwe ana i te hau, 'E Kahu!'I te toia iho au e oku putu. Me tu rawa au ka wetewete. I moumou noa iho te wa ki tenei mahi engari he pai ake tera i te toromi. Riro atu ana nga putu i nga au pioi.Ka titiro ake au. I te kimi au i hea ke ra a Kahu. I hikitia ake au e nga ngaru ka tuku iho ano.Ka tiwaha atu au, 'E Kahu, kaua.'Kua tae ke atu ia ki te tohora, a, e pupuri ana i te kauwae.Mama noa iho te huri mai i te ao purakau ki te ao tuturu, mai i te whakatangi ki te whakakata. Ko tenei pukapuka ko Te Kaieke Tohora ka whakamanaru i te kaipanui ahakoa pehea te pakeke. ...Show more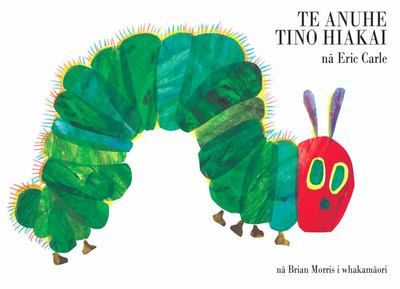 $22.00
NZD
Category: Children - Te Reo | Series: The Very Hungry Caterpillar
The te reo Maori translation of Eric Carle's classic and much loved picture book, The Very Hungry Caterpillar, has the same beautiful illustrations and dye cut pages as the original book and retains the humour and quirky character of the little caterpillar and simplicity of the story. This classic edit ion of the bestselling story is written for the very young. A newly hatched caterpillar eats his way through all kinds of food, getting bigger and bigger, until eventually he turns into a beautiful butterfly. One of the most popular picture books of all time, no nursery bookshelf is complete without a copy. ...Show more