$20.00
NZD
Category: Business and Law | Series: The\One Minute Manager Ser.
With a new foreword by Ken Blanchard The original, bestselling blockbuster which has transformed businesses world wide. The blockbuster number one international bestselling phenomenon is back ... not that it ever really went away. This easily-read story quickly demonstrates three very practical manageme nt techniques: One Minute Goals, One Minute Praisings and One Minute Reprimands. The One Minute Manager also includes information on several studies in medicine and in the behavioural sciences, which help readers understand why these apparently simple methods work so well with so many people. The book is brief, the language is simple, and best of all ... it works. ...Show more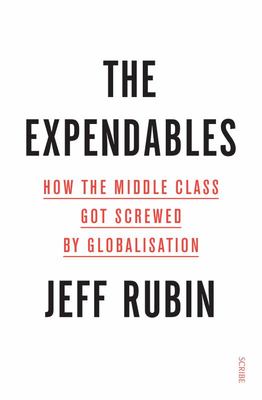 $40.00
NZD
Category: Business and Law
A provocative, far-reaching account of how the middle class got stuck with the bill for globalisation, and how the blowback — from Brexit to Trump to populist Europe — will change the developed world. Real wages have not risen much for decades. Union membership has collapsed. Full-time employment is be ginning to look like a quaint idea from the distant past. Falling tariffs, low interest rates, global deregulation, and tax policies that benefit the rich have all had the same effect: the erosion of the middle class. Bestselling author Jeff Rubin argues that all this was foreseeable back when major Western countries started to believe their own propaganda about free trade, and especially when they allowed China to exploit weaknesses in the trading system they devised. The result, growing global inequality, is a problem of our own making. And solving it won't be easy if we draw on the same ideas about capital and labour, right and left, that led us to this cliff. Articulating a vision that, remarkably, dovetails with the ideas of both Naomi Klein and Donald Trump, The Expendables is an exhilaratingly fresh perspective that is at once humane and irascible, fearless and rigorous, and most importantly, timely. GDP is growing, the stock market is up, and unemployment is down, but the surprise of this book is that even the good news is good for only 1 per cent of us. Praise for Why Your World Is About to Get a Whole Lot Smaller: 'The book is a great read, and one that should be required for anyone with a long-term interest in … energy, transportation, manufacturing or agriculture.' —The Globe and Mail 'Jeff Rubin is not your typical eggheaded senior economist … And the controversy that has dogged his work is about to hit the boiling point … So get set. If Jeff Rubin says something is coming, you better listen. Love him or hate him.' —Canadian Business 'Should be mandatory reading for all corporate executives.' —National Post Praise for The Carbon Bubble: 'An astute critique of big oil.' —Quill & Quire 'The Carbon Bubble is Jeff Rubin at his finest. Thought-provoking. Meticulously researched. Intelligent without pretension. I highly, highly recommend it!' —Michael Hlinka, business commentator, CBC Radio '[A] feat of economics writer's jiu-jitsu.' —Shawn McCarthy, The Globe and Mail 'Rubin's argument is sleek and fluent … Rubin is an engaging writer.' —Andrew Allentuck, Financial Post ...Show more
$39.99
NZD
Category: Business and Law | Reading Level: very good
Discover your strengths and learn how to use your greatest natural talents to get the most out of your life.     DO YOU HAVE AN OPPORTUNITY TO USE YOUR STRENGTHS EVERY DAY?   Chances are, you don't. All too often, our natural talents go untapped. From the cradle to the cubicle, we devote more time to fi xing our shortcomings than to developing our strengths.     To help people uncover their talents, Gallup introduced the first version of its online assessment, StrengthsFinder, in the 2001 management book Now, Discover Your Strengths. The book spent more than five years on the bestseller lists and ignited a global conversation, while the assessment helped millions discover their top five talents.     Now, Gallup unveils the new and improved version of its popular assessment, language of 34 themes and much more. While you can read this book in one sitting, you'll use it as a reference for decades.     Loaded with hundreds of strategies for applying your strengths, this book will change the way you look at yourself -- and the world around you -- forever. ...Show more
$35.00
NZD
Category: Business and Law
MORE THAN HALF A MILLION COPIES SOLDAn updated edition of the blockbuster leadership book that took America and the world by storm. In Extreme Ownership, Jocko Willink and Leif Babin share hard-hitting, Navy SEAL combat stories that translate into lessons for business and life. Jocko and Leif served tog ether in SEAL Task Unit Bruiser, the most highly decorated Special Operations unit from the war in Iraq. Through those difficult months of sustained combat, Jocko, Leif and their SEAL brothers learned that leadership - at every level - is the most important thing on the battlefield. Now they teach these same leadership principles to companies throughout the business world that want to build their own high-performance, winning teams. Extreme Ownership explains the SEAL leadership concepts crucial to accomplishing the most difficult missions in combat and how to apply them to any group, team, or organization. It provides the reader with Jocko and Leif's formula for success: the mindset and guiding principles that enable SEAL combat units to achieve extraordinary results. It demonstrates how to apply these directly to business and life to likewise achieve victory.Take Extreme Ownership. Lead and win. ...Show more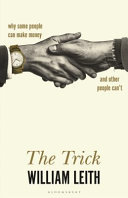 $33.00
NZD
Category: Business and Law
Some people can make money. Other people can't. It's a thought that makes William Leith wake up in cold sweats. He doesn't know why it makes him feel anxious. After all, money isn't real. We created it. Humans did. It's our masterpiece. But the desire for it is killing us. It is this dilemma that sets W illiam Leith off on an adventure into the bizarre, morally dubious yet highly desirable world of the mega-rich. He spends a day with the real-life Wolf of Wall Street who, not content with his hundreds of millions, devised a fraud so he could make hundreds of millions more. He visits a Baroque mansion where a Russian half-billionaire lives alone with his butler. He tours the estate of Felix Dennis, the maverick tycoon who commissioned an avenue of statues to tell the story of his life. He flies to private islands on private jets, meets private men in private clubs, experiencing the dizzy highs of a life without limits o but all it does is give him crippling anxiety. Throughout it all he asks himself- what makes these people wealthy? And how come I'm not? ...Show more
$69.99
NZD
Category: Business and Law
'This is not a book about charismatic visionary leaders. It is not about visionary product concepts or visionary products or visionary market insights. Nor is it about just having a corporate vision. This is a book about something far more important, enduring, and substantial. This is a book about visio nary companies.' Drawing upon a six-year research project at the Stanford University Graduate School of Business, Collins and Porras took eighteen truly exceptional and long-lasting companies and studied each company in direct comparison to one of its top competitors. They examined the companies from their very beginnings to the present day - as start-ups, as midsize companies and as large corporations. Throughout, the authors asked: 'What makes the truly exceptional companies different from other companies?' Filled with hundreds of specific examples and organized into a coherent framework of practical concepts that can be applied by managers and entrepreneurs at all levels, "Built to Last" provides a master blueprint for building organizations that will prosper long into the twenty-first century and beyond. ...Show more
$28.00
NZD
Category: Business and Law
'A master of persuasion.' Forbes 'This book blew my mind.' Adam Grant, bestselling author of Originals A former FBI hostage negotiator offers a new, field-tested approach to negotiating - effective in any situation. After a stint policing the rough streets of Kansas City, Missouri, Chris Voss joined the FBI, where his career as a kidnapping negotiator brought him face-to-face with bank robbers, gang leaders and terrorists. Never Split the Difference takes you inside his world of high-stakes negotiations, revealing the nine key principles that helped Voss and his colleagues succeed when it mattered the most - when people's lives were at stake. Rooted in the real-life experiences of an intelligence professional at the top of his game, Never Split the Difference will give you the competitive edge in any discussion.   'Filled with insights that apply to everyday negotiations.' Business Insider 'A stupendous book.' The Week 'It's rare that a book is so gripping and entertaining while still being actionable and applicable.' Inc. ...Show more
$48.00
NZD
Category: Business and Law | Series: Big Ideas Ser.
Discover the big ideas behind more than 90 of history's most important legal rulings and milestone laws - from the earliest civilizations to the 21st century. From the philosophical, religious, and moral codes of the world's earliest societies, such as the Law Code of Hammurabi and the Ten Commandments , through groundbreaking legislation such as The Book of Punishments, Magna Carta and the Slavery Abolition Act, The Law Book offers an engaging and accessible overview of legal history across the world all the way into the 21st century with copyright in the digital age, gay marriage, and the "right to be forgotten". With entries on the fight for universal suffrage and workers' rights, and the establishment of international legal bodies like INTERPOL and the European Court of Justice, The Law Book explores and explains the stories behind each milestone development. Using the Big Ideas series' trademark combination of authoritative, informative text, and bold graphics, The Law Book makes each entry accessible and easy to understand. Packed with inspirational quotations, eye-catching infographics, and "mind maps", it offers essential reading for anyone with a professional or personal interest in law, the legal system, or history and social change. ...Show more
$28.00
NZD
Category: Business and Law
Who really creates wealth in our world? And how do we decide the value of what they do? In modern capitalism, value-extraction - the siphoning off of profits, from shareholders' dividends to bankers' bonuses - is rewarded more highly than value-creation- the productive process that drives a healthy econ omy and society. We misidentify takers as makers, and have lost sight of what value really means. Yet, argues Mariana Mazzucato in this penetrating and passionate new book, if we are to reform capitalism we urgently need to rethink where wealth comes from. Who is creating it, who is extracting it, and who is destroying it? ...Show more
$40.00
NZD
Category: Business and Law
"Think Again is a must-read for anyone who wants to create a culture of learning and exploration, whether at home, at work, or at school... In an increasingly divided world, the lessons in this book are more important than ever." --Bill and Melinda Gates The bestselling author of Give and Take and Orig inals examines the critical art of rethinking: learning to question your opinions and open other people's minds, which can position you for excellence at work and wisdom in life Intelligence is usually seen as the ability to think and learn, but in a rapidly changing world, there's another set of cognitive skills that might matter more: the ability to rethink and unlearn. In our daily lives, too many of us favour the comfort of conviction over the discomfort of doubt. We listen to opinions that make us feel good, instead of ideas that make us think hard. We see disagreement as a threat to our egos, rather than an opportunity to learn. We surround ourselves with people who agree with our conclusions, when we should be gravitating toward those who challenge our thought process. The result is that our beliefs get brittle long before our bones. We think too much like preachers defending our sacred beliefs, prosecutors proving the other side wrong, and politicians campaigning for approval--and too little like scientists searching for truth. Intelligence is no cure, and it can even be a curse: being good at thinking can make us worse at rethinking. The brighter we are, the blinder to our own limitations we can become. Organisational psychologist Adam Grant is an expert on opening other people's minds - and our own. As Wharton's top-rated professor and the bestselling author of Originals and Give and Take, he makes it one of his guiding principles to argue like he's right but listen like he's wrong. With bold ideas and rigorous evidence, he investigates how we can embrace the joy of being wrong, bring nuance to charged conversations, and build schools, workplaces, and communities of lifelong learners. You'll learn how an international debate champion wins arguments, a Black musician persuades white supremacists to abandon hate, a vaccine whisperer convinces concerned parents to immunize their children, and Adam has coaxed Yankees fans to root for the Red Sox. Think Again reveals that we don't have to believe everything we think or internalize everything we feel. It's an invitation to let go of views that are no longer serving us well and prize mental flexibility over foolish consistency. If knowledge is power, knowing what we don't know is wisdom. ...Show more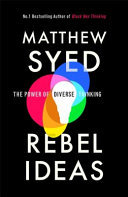 $25.00
NZD
Category: Business and Law
Where do the best ideas come from? And how do we apply these ideas to the problems we face - at work, in the education of our children, and in the biggest shared challenges of our age: rising obesity, terrorism and climate change? In this bold and inspiring new book, Matthew Syed - the bestselling aut hor of Bounce and Black Box Thinking - argues that individual intelligence is no longer enough; that the only way to tackle these complex problems is to harness the power of our 'cognitive diversity'. Rebel Ideas is a fascinating journey through the science of team performance. It draws on psychology, economics, anthropology and genetics, and takes lessons from a dazzling range of case-studies, including the catastrophic intelligence failings of the CIA before 9/11, a communication breakdown at the top of Mount Everest, and a moving tale of deradicalization in America's deep South. It is book that will strengthen any company, institution or team, but it also offers many individual applications too: the remarkable benefits of personalised nutrition, advice on how to break free of the echo chambers that surround us, and tips on how we can all develop an 'outsider mindset'. Rebel Ideas offers a radical blueprint for creative problem-solving. It challenges hierarchies, encourages constructive dissent and forces us to think again about where the best ideas come from. ...Show more
Intelligent Investor
by Benjamin Graham; Jason Zweig (Commentaries by); Warren Buffett (Preface by)
$40.00
NZD
Category: Business and Law | Series: Collins Business Essentials Ser. | Reading Level: very good
The greatest investment advisor of the twentieth century, Benjamin Graham taught and inspired people worldwide. Graham's philosophy of "value investing"--which shields investors from substantial error and teaches them to develop long-term strategies--has made The Intelligent Investor the stock market bi ble ever since its original publication in 1949. Over the years, market developments have proven the wisdom of Graham's strategies. While preserving the integrity of Graham's original text, this revised edition includes updated commentary by noted financial journalist Jason Zweig, whose perspective incorporates the realities of today's market, draws parallels between Graham's examples and today's financial headlines, and gives readers a more thorough understanding of how to apply Graham's principles. Vital and indispensable, The Intelligent Investor is the most important book you will ever read on how to reach your financial goals. ...Show more