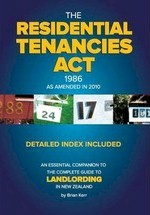 $30.00
NZD
Category: Business and Law
Brian Kerr has produced a comprehensive index to The Residential Tenancies Act 1986 to make accessing the detail of the legislation a much easier process.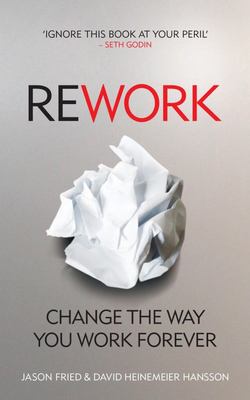 $35.00
NZD
Category: Business and Law
From the founders of the trailblazing software company 37signals, here is a different kind of business book - one that explores a new reality. Today, anyone can be in business. Tools that used to be out of reach are now easily accessible. Technology that cost thousands is now just a few pounds or even f ree. Stuff that was impossible just a few years ago is now simple. That means anyone can start a business. And you can do it without working miserable 80-hour weeks or depleting your life savings. You can start it on the side while your day job provides all the cash flow you need. Forget about business plans, meetings, office space - you don't need them. With its straightforward language and easy-is-better approach, "Rework" is the perfect playbook for anyone who's ever dreamed of doing it on their own. Hardcore entrepreneurs, small-business owners, people stuck in day jobs who want to get out, and artists who don't want to starve anymore will all find valuable inspiration and guidance in these pages. It's time to rework work. ...Show more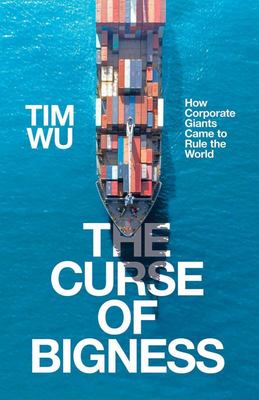 $33.00
NZD
Category: Business and Law
An urgent and persuasive argument for why we must fight global monopolies to protect freedom and prosperity.
$28.00
NZD
Category: Business and Law
In 2013, Sheryl Sandberg's Lean Inbecame a massive cultural phenomenon and its title became an instant catchphrase for empowering women. The book soared to the top of bestseller lists internationally, igniting global conversations about women and ambition. Sandberg packed theatres, dominated opinion pag es, appeared on every major television show and on the cover of Time magazine, and sparked ferocious debate about women and leadership. Ask most women whether they have the right to equality at work and the answer will be a resounding yes, but ask the same women whether they'd feel confident asking for a raise, a promotion, or equal pay, and some reticence creeps in. The statistics, although an improvement on previous decades, are certainly not in women's favour - of 197 heads of state, only twenty-two are women. Women hold just 20 percent of seats in parliaments globally, and in the world of big business, a meagre eighteen of the Fortune 500 CEOs are women. In Lean In, Sheryl Sandberg - Facebook COO and one of Fortunemagazine's Most Powerful Women in Business - draws on her own experience of working in some of the world's most successful businesses and looks at what women can do to help themselves, and make the small changes in their life that can effect change on a more universal scale. ...Show more
$32.95
NZD
Category: Business and Law
"Does the following person sound familiar? * He/she works inside many of Australia's businesses and corporations. * He/she intimidates fellow workers. * He/she exhibits impulsive behaviour. * He/she demonstrates a lack of remorse. * He/she is glib and superficially charming. Who is he/she? Workplace psy chopaths exist in a variety of workplaces. They are individuals who manipulate their way through life and leave an indelible mark on both their victims and society. They are destructive men and women - cunning, self-centered, ruthless and terrifying. They make working life a living hell for many of us. What motivates these individuals? How can you protect yourself from these 'monsters' who hide behind a veneer of respectability? Working With Monsters provides a fascinating insight into the mind of the workplace psychopath. Drawing on his studies and research in forensic psychology, and experience in criminal profiling for law enforcement agencies as well as corporations experiencing difficulties with an employee, Dr John Clarke shows you how to recognise and manage a workplace psychopath within your midst. Don't be a victim - be wise to their tricks!" ...Show more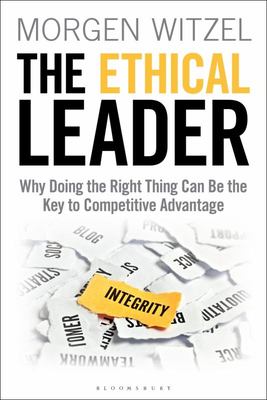 $37.00
NZD
Category: Business and Law
Ethical behaviour by businesses, or their staff, is often seen as the corporate and social responsibility icing on an organizational cake something that is nice to do but never really essential. But by turning this view around and making ethical behaviour a primary focus Witzel shows how businesses can create and maintain long-term competitive advantage. Trust and respect among key stakeholder groups, particularly employees and customers, cannot be overstated in their importance to an organization's success- trust engenders loyalty and good reputation, which in turn builds brand value. However, while ethical behaviour is key to trust-building, in order for an organization to see lasting, positive outcomes it needs to go deeper than something managers do out of a sense of moral duty. The Ethical Leader shows why ethical practice has to be the platform on which a strong and enduring business can be built, and leaders and managers need to provide the necessary tools and insights to enable this to happen. Witzel offers a practical introduction to some of the key concepts in ethics, including how to deal with ethical paradoxes and making ethical decisions. The book explores the specifics of what makes an ethical leader, and how leaders can communicate values and standards across an organization in order to engage the trust of employees, consumers, shareholders and the wider community. ...Show more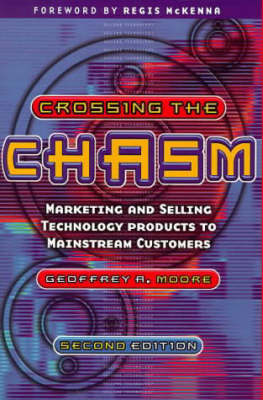 $45.00
NZD
Category: Business and Law
In Crossing the Chasm, Geoffrey Moore, the world's leading high-tech and communications guru, throws out old marketing ideas to clear space for the special realities of the high-tech market. Based on a revolutionary new model and filled with practical insights, Crossing the Chasm is a landmark book. Thi s new edition has been updated to include comprehensive coverage of the Internet and World Wide Web. ...Show more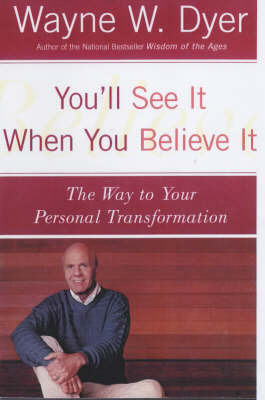 $34.95
NZD
Category: Business and Law
The world's foremost producer of personal development and motivational audio programs now offers an inside look at the kind of positive thinking that can transform your life.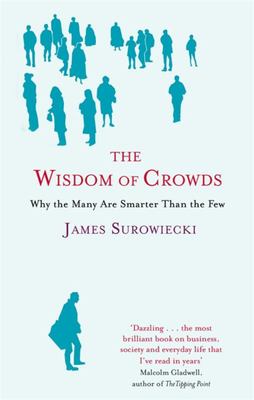 $35.00
NZD
Category: Business and Law
In this landmark work, NEW YORKER columnist James Surowiecki explores a seemingly counter-intuitive idea that has profound implications. Decisions taken by a large group, even if the individuals within the group aren't smart, are always better than decisions made by small numbers of 'experts'. This seem ingly simply notion has endless and major ramifications for how businesses operate, how knowledge is advanced, how economies are (or should be) organised and how nation-states fare. With great erudition, Surowiecki ranges across the disciplines of psychology, economics, statistics and history to show just how this principle operates in the real world. Along the way Surowiecki asks a number of intriguing questions about a subject few of us actually understand - economics. What are prices? How does money work? Why do we have corporations? Does advertising work? His answers, rendered in a delightfully clear prose, demystify daunting prospects. As Surowiecki writes: 'The hero of this book is, in a curious sense, an idea, a hero whose story ends up shedding dramatic new light on the landscapes of business, politics and society'. ...Show more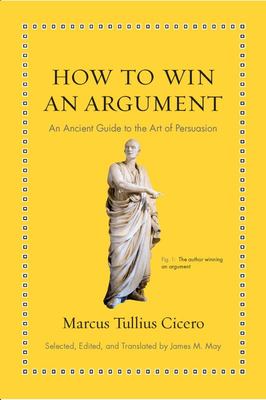 $50.99
NZD
Category: Business and Law | Series: Ancient Wisdom for Modern Readers Ser. | Reading Level: very good
All of us are faced countless times with the challenge of persuading others, whether we're trying to win a trivial argument with a friend or convince our coworkers about an important decision. Instead of relying on untrained instinct-and often failing as a result-we'd win more arguments if we learned th e timeless art of verbal persuasion, rhetoric. How to Win an Argument gathers the rhetorical wisdom of Cicero from across his works and combines it with passages from his legal and political speeches to show his powerful techniques in action. The result is an enlightening and practical introduction to the secrets of persuasive speaking and writing-including strategies that are just as effective in today's offices, schools, courts, and political debates as they were in the Roman forum.How to Win an Argument addresses proof based on rational argumentation, character, and emotion; the parts of speech; the plain, middle, and grand styles; how to persuade no matter what audience or circumstances you face; and more. Astonishingly relevant, this anthology of Cicero's rhetorical and oratorical wisdom will be enjoyed by anyone who ever needs to win arguments and influence people. ...Show more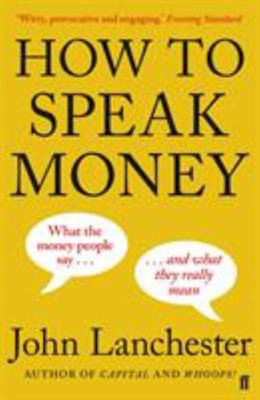 $30.00
NZD
Category: Business and Law | Reading Level: General Adult
Money is our global language. Yet so few of us can speak it. The language of the economic elite can be complex, jargon-filled and completely baffling. Above all, the language of money is the language of power - power in the hands of the same economic elite. Now John Lanchester, bestselling author of Cap ital and Whoops! sets out to decode the world of finance for all of us, explaining everything from high-frequency trading and the World Bank to the difference between bullshit and nonsense. As funny as it is devastating, How To Speak Money is a primer and a polemic. It's a reference book you'll find yourself reading in one sitting. And it gives you everything you need to demystify the world of high finance - the world that dominates how we all live now. ...Show more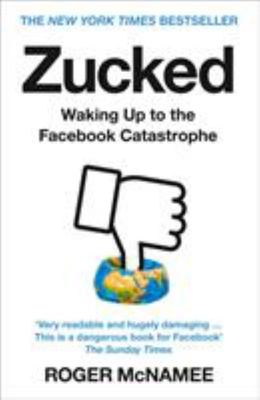 $25.00
NZD
Category: Business and Law
This is the dramatic story of how a noted tech venture capitalist, an early mentor to Mark Zuckerberg and investor in his company, woke up to the serious damage Facebook was doing to our society and set out to try to stop it. If you had told Roger McNamee three years ago that he would soon be devoting himself to stopping Facebook from destroying democracy, he would have howled with laughter. He had mentored many tech leaders in his illustrious career as an investor, but few things had made him prouder, or been better for his fund's bottom line, than his early service to Mark Zuckerberg. Still a large shareholder in Facebook, he had every good reason to stay on the bright side. Until he simply couldn't.  Zucked is McNamee's intimate reckoning with the catastrophic failure of the head of one of the world's most powerful companies to face up to the damage he is doing. It's a story that begins with a series of rude awakenings. First there is the author's dawning realization that the platform is being manipulated by some very bad actors. Then there is the even more unsettling realization that Zuckerberg and Sheryl Sandberg are unable or unwilling to share his concerns, polite as they may be to his face.  And then comes Brexit and the election of Donald Trump, and the emergence of one horrific piece of news after another about the malign ends to which the Facebook platform has been put. To McNamee's shock, Facebook's leaders still duck and dissemble, viewing the matter as a public relations problem. Now thoroughly alienated, McNamee digs into the issue, and fortuitously meets up with some fellow travellers who share his concerns, and help him sharpen its focus. Soon he and a dream team of Silicon Valley technologists are charging into the fray, to raise consciousness about the existential threat of Facebook, and the persuasion architecture of the attention economy more broadly - to our public health and to our political order.  Zucked is both an enthralling personal narrative and a masterful explication of the forces that have conspired to place us all on the horns of this dilemma. This is the story of a company and its leadership, but it's also a larger tale of a business sector unmoored from normal constraints, at a moment of political and cultural crisis, the worst possible time to be given new tools for summoning the darker angels of our nature and whipping them into a frenzy. This is a wise, hard-hitting, and urgently necessary account that crystallizes the issue definitively for the rest of us. ...Show more